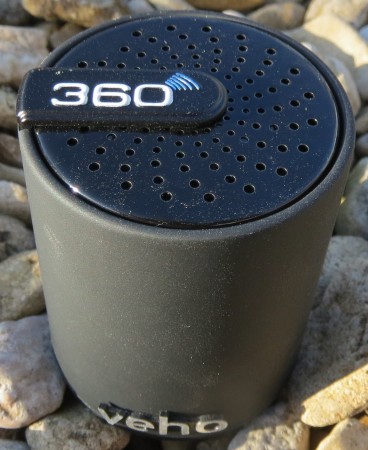 The Veho 360 degree M3 Bluetooth speaker is a highly compact piece of personal pocket PA. It's all very well being small and wireless, but I wanted to know if it's any better than the speaker on my phone.
Likes
Compact
Loud for its size
Robust feel
Dislikes
No volume control
Not a standard micro USB charger connection
The bleep when it's turned on can cause friction between you and your boss
What's in the Box
The speaker is well packaged, along with a USB charger cable and a short 3.5mm to 3.5mm jack cable.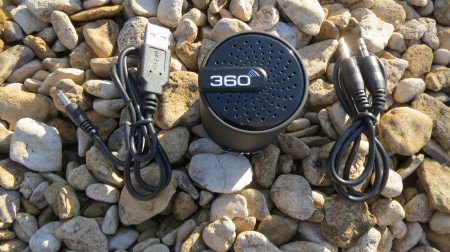 Specs
Battery: 400 mAh
Power Output: 2.2 Watt
Bluetooth Range: 10 Metres
Weight: 52g
Dimensions: 30mm diameter x 50mm tall
Construction
The first thing to note is that this is a small, mono speaker. When I say small, I mean pocket size, so don't expect a bass monster that'll impress the guys sitting on the bonnets of lowered Vauxhall Corsas in Asda's car park. It's got an entirely different impression to make.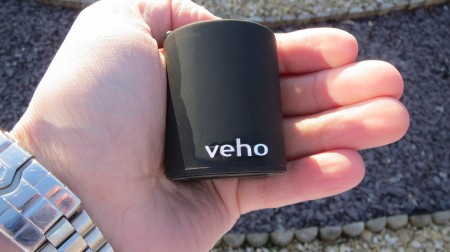 It is cylindrical and coated in a soft touch rubbery finish that makes it decidedly pleasant to hold. Near the bottom is an LED, a jack socket input for use with products that are not Bluetooth compatible, and the charger socket. On the base is a three way switch for on/off/on with Bluetooth, whilst the driver is on the top facing upwards and covered by a metal grille.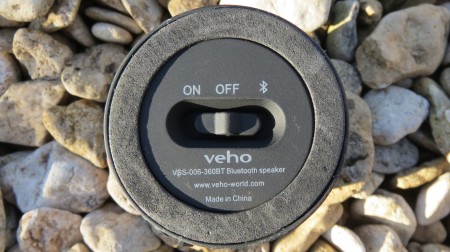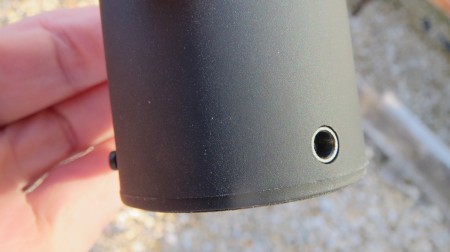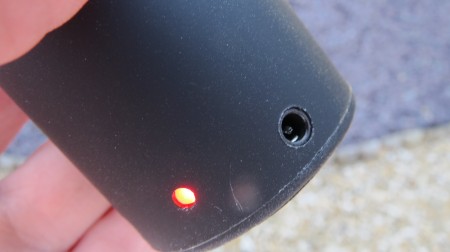 Bleep – A tale of volume and distress
When I initially turned the Veho on it was in a quiet office. Ronnie's top tip is that you don't do what I did; the bleep noise it makes to indicate that Bluetooth on is very loud, which caused me to jump and then glow red as my boss glared at me.
I then spent several minutes looking for a volume control. After prodding, pushing, twisting and even emailing the supplier I realised there isn't one. The volume is controlled by the device it's paired to. That's all very well, except it has to bleep at the top of it's rather loud voice before it can be paired. Why it has to bleep is beyond me, because it has a bright LED that gives you the same information.
This hasn't mentally scarred me at all… honest.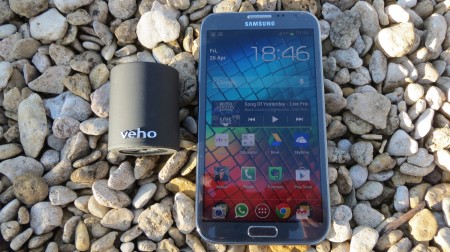 In Use
The Veho is quite obviously not a piece of hi-fi, but what it does well is project sound. Given its size and diminutive amplifier (2.2W) it's really quite astonishing how much air it can move.
Straight out of the box the sound quality is pretty good, if a little mid-range heavy. I installed a graphic equaliser app on my phone and managed to tweak it so both music and speech were enjoyable to listen to. Certainly better than the speakers on my Samsung Galaxy Note II and my Nexus 4. In a blind test a wired connection did sound slightly better than Bluetooth, but in the real world the difference wouldn't be noticeable.
According to the instructions, a full charge takes four hours from a computer's USB socket. There is no real way of checking this, however, as there's no battery indicator. I was a little disappointed to find that the connection at the speaker end is a small round thing, not micro USB, which would have been nicer.
As far as usage time goes, after charging it for four hours I left music streaming to it over Bluetooth. It eventually gave up after just over three hours, which is what the Veho website quotes.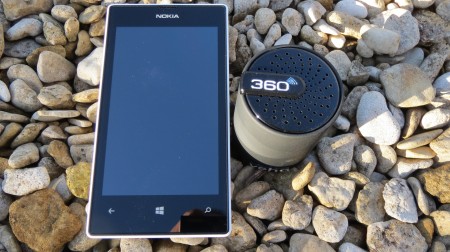 Conclusion
I'm personally not one to walk down the street with my music blaring out, if fact it's something I hate to hear. However, if I want to listen to Spotify whilst gardening, decorating or working on the car I really don't want to perch my phone somewhere hazardous. This is where the Veho stands out; I can put my phone in my pocket or a bag and let the Veho take all the risks. I can also see this being the case for people listening to sport when in the park, or even on the beach (like in my photos). After all, at £29.95 it's a lot less expensive to replace than pretty much any phone!
So, in a nutshell: good for outdoors, bad for office harmony.
The Veho 360 degree M3 Bluetooth Soundblaster speaker is currently available, along other mobile phone accessories, from Gearzap at a discounted price of £19.95