Some would have you believe that if you want a tablet that you have to have an iPad, some would also say you have to have a Nexus 7 but my take on things is that sometimes in life you need to take the Red Pill and try something different. But is the Red Pill always a good thing? Well read on we'll see.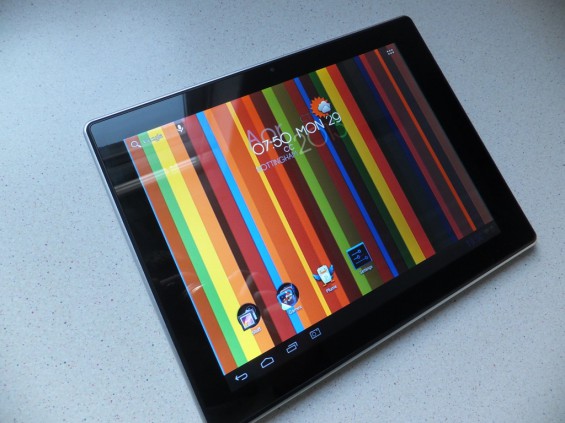 Enter stage right the Gemini JoyTab Duo 9.7, which is part of Gemini Devices latest lineup of models. I posted a quick initial impressions the other week. So after having used it for a few weeks how have I got on? Well lets find out, starting with some updated good and bad points.
Good Points
9.7″ is a nice size
4:3 screen is nice for Web,  Books and Magazines
Micro SD slot is handy
Mini HDMI is useful
USB OTG cable in the box
Bad Points
Partitioning of the internal memory leads to shortage of app storage
Touch screen responsiveness at times hinders usage
Screen viewing angles
Design
The JoyTab shares  a design with previous generations of the same name. A mix of Aluminium, plastic and glass. The back panel is made of Aluminium with some branding, a pair of rear speakers and also the rear 2MP camera. Oh and don't forget the black plastic piece reminding you it has WiFi. The sides of the device are also made of Aluminium and only one edge has the buttons and ports. You get a power button, volume buttons, DC in (not Micro USB), mini USB for file transfer and synchronisation, mini HDMI, 3.5MM headphone socket, MicroSD slot and a microphone hole for video calling. The screen sites proud of the Aluminium back panel, it is framed by a black plastic strip, it's the slight protrusion that is used to secure the keyboard variant of this JoyTab. The screen itself has a webcam at the top. I like the design of the JoyTab, mainly just  down to the overall size and the Aluminium.
Hardware
The latest generation of the JoyTab Duo certainly ticks all of the boxes for things that you'd expect. A Dual core CPU and Quad core GPU certainly are the main features on the spec list, the memory on paper sounded good as well. I'll explain more later.
Here is the spec list of the JoyTab
Operating System Google Android 4.1   (Jelly Bean)
CPU Dual Core ARM Cortex RK Processor
Graphics Mali-400 Quad Core
Memory 1GB RAM
Storage 16GB Built in,   upgradeable to 32GB with Micro SD Card
Display 9.7 inch LCD –   1024×768 Pixels, Capacitive Multi-touch Screen
Micro SD Slot (up   to 32GB)
1 x Mini USB (OTG)
1 x Mini HDMI
1 x Stereo Earphone Slot
1 x DC-IN Jack 5V 2A
Wireless B/G/N + Bluetooth   2.1
Camera Front 0.3M, Back 2   Megapixel
Battery 8000mAh
Sensors G Sensor
Dimensions Width 242 x Height   185 x Depth 9.8 (mm)
Weight Tablet 632g
As I said earlier on paper it all looks good. In reality the screen at times is unresponsive, making tasks like using Google Maps, Web Browsing and sometimes even typing a battle with the thing to correct phantom touches. The screen is only a five point touch screen which accounts for some of the problems it has and it only really becomes a problem if you're using a intensive multi touch app. Although I'd recommend installing an alternative keyboard.
The screen also has a few spots that aren't as responsive as others, mainly along the edges, which made tapping some onscreen buttons or controls difficult. Viewing angles of the screen are a little off as well. Held in landscape the screen is hard to view dark colours from the left and light colours from the right. Held in portrait it is the same, depending on which you've decided is the top or the bottom. I was pleased to find the JoyTab handled graphic intensive games such as Dark Knight Rises, although at times the multi touch issue rose it's head now and again and you could definitely feel some lag and frame rates weren't ideal. The quad core GPU seems to do its job but it doesn't feel as smooth as a Tegra 3 chip.
Battery Life on the JoyTab was average using it to play games, listen to music, watch video and browse the web you'll get a good few hours. I mainly noticed severe drops in the battery after playing some of the bigger fancy games like Batman. In flight mode I had it on for hours slowly drafting articles for this week whilst sat at the airport.
Benchmark wise the JoyTab came out similar to the Nexus 7 scoring the following Quadrant 4297 and Antutu 11295. The Nexus 7 scored Quadrant 3793 and Antutu 12197. But in real life I felt the Nexus 7 was smoother at most things.
Software
The JoyTab runs a basically vanilla build of Android, with only an updater app added to the build. It is nice to be able to install your own favourite selection of apps at times not have to worry about skins etc.
When I get a new device I set about syncing my accounts and installing my favourite apps, mainly to keep up on goings on here, the news in general, social media, a few games and various apps from Microsoft to sync with my Windows Phone devices. I soon realised that the 16GB of memory was split up and that it was running out. I took the below screenshot after a hard reset, to show out of the box storage.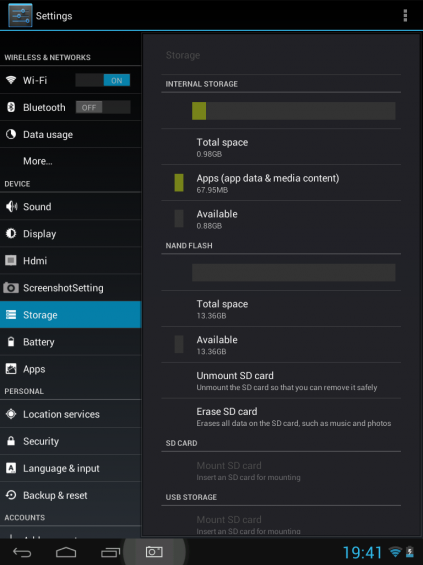 This issue really hampers the number of large games you can install, some developers code their apps to auto install to internal SD memory, some also allow you to manually move the app and some just don't bother. It makes the whole memory management thing feel distinctly Gingerbread like. Media playback on the JoyTab was good although watching video is a little odd at times as most video is in 16:9 devices so you get banding on the screen, this is mainly because there aren't many 4:3 Android devices. Some apps let you stretch the video to the screen size which is handy.
Conclusion
Overall the JoyTab is a reasonable device for the money, having all of the connectivity options means the tablet is great for multimedia and would be ideal to load up with films  and music to take on holiday. Although compared to some of the latest 7″ tablets from Acer, Asus and Samsung it would be hard to recommend it.
Gemini could probably fix most of the problems with a firmware update or two, although to fix the storage would probably involve a total wipe. In this case I'd probably take the blue pill instead.
As a final point which I missed earlier, you can buy the Duo 9.7 from a variety of places, head over to this page here for further links to retailers. The costs is about £150 depending on where you go, they have a confusing array of similar product numbers which add to the confusion.