Gemini Devices are one of those companies that keep releasing decent products at decent prices. The latest products in their line-up are a selection of Jelly Bean tablets. Over the years we have had reviewed a few different tablets from them, most recently I used the JoyTab Pro which was an Ice Cream Sandwich based tablet with a keyboard, I liked it and getting hold of this latest tablet made me quite excited.
Gemini claim big things about the DUO 9.7 and its dual core CPU and quad core GPU combo so I was looking forward to getting to grips with it. At £149.99 I was quite interested in it as a device to throw in a rucksack and to take on holiday with you. It would make an ideal mapping and multimedia device.
As usual with our initial impressions here are the initial good and bad points.
Good Points
Nice solid feel due to metal back panel
Nice bright screen
4:3 screen ratio is nice for web browsing
Vanilla Android build means no bloat
Adequate internal storage
MicroSD slot
Mini USB OTG cable supplied with it
Bad Points
Some viewing angles on screen slightly blurred
Proprietary charging port
Heavy
Vanilla Android means that the UI is very basic
Odd partitioning of the internal memory means that only about 1GB is available to apps
Design
The DUO 9.7 has a pretty basic design, the metal back panel has the logo on, the top edge has all of the buttons and ports on it, leaving only really the screen left as a feature. The screen sits proud of the casing, this is because they also ship this model with a Bluetooth keyboard case which uses the slight bevel at the edge to clip onto.
The DUO 9.7 has a squarer feel to it compared to many other Android tablets, which gives it an easier to hold feel.
Hardware
Spec wise the DUO 9.7 is pretty decent it ticks most of the boxes of things people feel they should get with a tablet these days.
Operating System
Google Android 4.1   (Jelly Bean)
CPU
Dual Core ARM Cortex   RK Processor
Graphics
Mali-400 Quad Core
Memory
1GB RAM
Storage
16GB Built in,   upgradeable to 32GB with Micro SD Card.
Display
9.7 inch LCD –   1024×768 Pixels, Capacitive Multi-touch Screen
Connectivity
1 Micro SD Slot (up   to 32GB)
1 x Mini USB (OTG)
1 x Mini HDMI
1 x Stereo Earphone Slot
1 x DC-IN Jack 5V 2A
Wireless
B/G/N + Bluetooth   2.1
Camera
Front 0.3M, Back 2   Megapixel
Battery
8000mAh
Sensors
G Sensor
Dimensions
Width 242 x Height   185 x Depth 9.8 (mm)
Weight
Tablet 632g
As I mentioned before the CPU GPU combo means that most games and apps shouldn't be a problem, I'll be loading up some intensive games soon to test it out. The internal memory is split in a strange way, meaning that you get internal memory, some more internal memory for media and then your memory card slot. Which limits the potential for installing thousands of apps.
Software
I was pleasantly surprised by the build of Android supplied on the tablet, a few apps handling updates and a file manager and that was it, apart from a Gemini wallpaper there wasn't much else added to shy away from stock Android.
Strangely though the tablet came pre-rooted and had SuperUser pre-installed, I'm not sure whether this was due to it being a review unit or not. Gemini have said that future retail units will not be rooted.
The internal memory thing could affect you if you're planning on installing lots of big games, but in the main larger apps install to the internal fake SD card memory.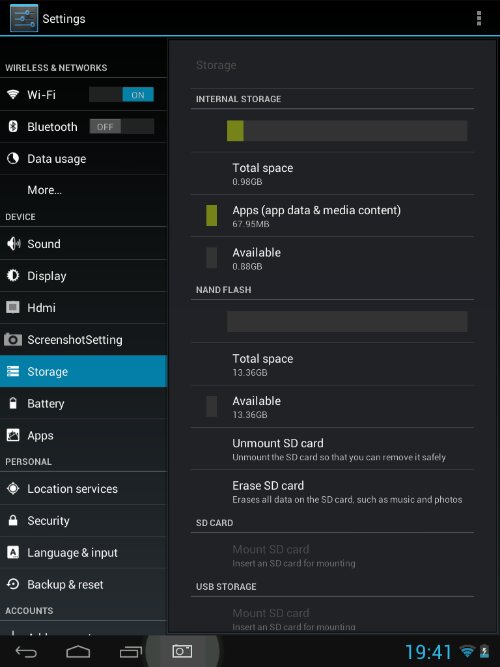 I am itching to try some different launchers on the DUO, not that the stock launcher is laggy, it's just it lacks features, with Apex I could set up fancy swipe gestures for app drawers or notifications or with Chameleon I could make something quite cool looking. There is a lot to be said for alternative launchers. The stock one is just that, some apps, some widgets and the app drawer, end of.
Initial Conclusion
I quite like the DUO 9.7, it has a nice feel in the hand, albeit a little heavy, but you can easily use it either way round. After using it for a few hours I didn't find anything broken, the root thing was a bit odd, but hey I'm sure that won't make it into the public domain.
At £149.99 the Duo 9.7 makes for a great tablet, if you're interested you can pick one up here.
I plan to test every type of app I can think of on the DUO, if you can think of anything you'd like us to test on it let us know in the comments below.