We've been looking at those "virtual network operators" lately and have already checked out Virgin Mobile and TalkTalk. Both of those networks were keen to get you on board if you were already using one of their other services (like TV or broadband) and, in the case of TalkTalk, you had to be an existing customer to get their packages. Virgin customers got a discount, but they allowed everyone else on board too.
Tesco then. You know them. Whether you think that they're slowly killing the high street or creating jobs and opportunities, you can't argue with their size and success. Their mobile arm has around 3.2 million customers (as of the end of June 2012) and it runs on the O2 network. As I've mentioned before, we shouldn't shy away from these virtual networks that share other networks – it's only like T-Mobile customers using old Orange masts and vice-versa. Tesco also have 4G coming soon so, as long as the package and allowance is good, who cares right?
As I type Tesco have the Galaxy S4 coming soon as the Nokia Lumia 900 is available for £17.50 per month with 500 minutes, 5000 texts and 1GB of data on a two-year plan.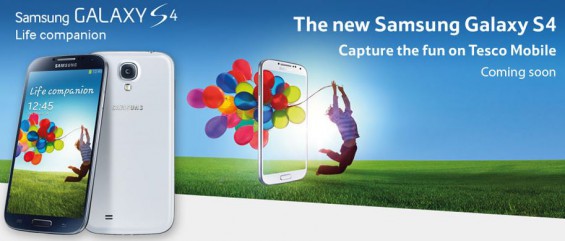 As we mentioned yesterday, what has set Tesco Mobile apart is the fact that they're winning awards and their staff are friendly and easy to talk to. I've personally been doing my weekly shop and, in the back of the local Tesco-Mega-Plex, I've seen a member of their Phone team help an elderly gentleman with a phone he didn't purchase from Tesco. They spent a good while listening and offered to charge it while he shopped.
Their awards range from "Best Freebies", "Best Customer Support" and "Best Value For Money" on both Contract and PAYG from uSwitch. Just yesterday Tesco Mobile announced that they'd come out top in the "Which?" annual "Mobile Phone Satisfaction" survey for contract and SIM-only customers. They were lauded for their value offers, customer service and range of handsets. They even beat Vodafone and EE, plus they were given "Recommended Provider" status for both mobile contract and PAYG. Have a look at the press release at the bottom of this article if you want more information.
Have you seen your mobile plan increase in price recently? Yeah? Well Tesco Mobile have announced a "Tariff Promise" that states …
Tesco Mobile announces commitment to fixed contract charges as competitors reap £217m* of customers' money in hidden tariff increases.

Today, Tesco Mobile has announced a promise to fix customers' contract tariff costs. Its Tariff Promise is a commitment never to raise its customers' core tariff prices mid-contract, the first move of its kind amongst network providers in the UK.

Tesco Mobile has never raised its Pay-Monthly tariff costs mid-contract and is dedicated to continuing this.
The guys from uSwitch have praised this move. Ernest Doku, telecoms expert at uSwitch.com , said..
This is more welcome news for consumers who have often been left feeling misled and out of pocket after signing up to a fixed-term contract only to discover the hard way that prices aren't fixed. Following EE's announcement that from April its customers will have the option to fix the price of their monthly bills for a small premium, this move from Tesco arguably goes one step further – by ensuring that customers automatically benefit from no price rises, rather than by opting in and paying a premium. By ensuring that all plans have a fixed price for their duration, it brings some much-needed clarity and reassurance.
OK, so let's have a look at their plans. First up, their SIM only deals include a £10 deal (on a 12-month agreement) which gives you 500MB of data, 5000 texts and 500 minutes. If you need more data, you can get a slightly different plan which is still £10 per month (12 month agreement) and gives you 1GB of data, 5000 texts and 250 minutes. Other offers include a £7.50 offer (12 month agreement) which gives you the same minutes and texts but 500MB of data.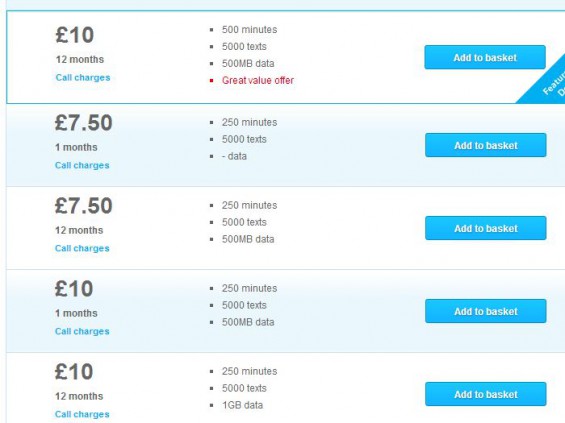 Their SIM only page includes sliders so you can notch minutes / texts or data up and down to suit. For £15 per month (again, on a 12 month agreement), you can have 2GB of data, 750 minutes and 5000 texts. You can still have month-by-month plans but the price goes up slightly. For example, for £15 per month on a monthly-rolling plan you get 1GB of data, 750 minutes and 5000 texts.
If you're looking for a handset to go with your SIM, have a looksie at the Tesco Pay As You Go deals. The handsets range from the Samsung Galaxy SII for £378 (still a good phone), Windows Phones like the Nokia Lumia 820 (£346) or Nokia Lumia 900 (£180) or perhaps the Motorola RAZRi for £320. You also get one Clubcard Point for every pound you spend, so if you're collecting then it'll definitely add up.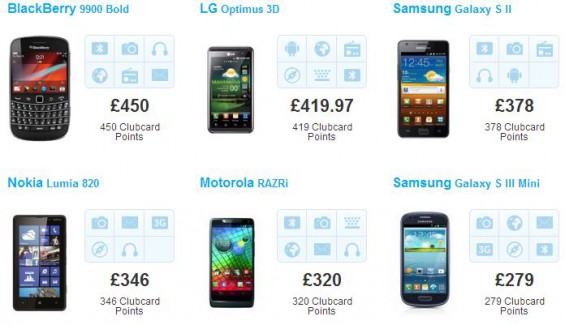 As with all networks, you can get a SIM or Pay As You Go card and port your existing number across. Tesco, however, also add extra credit, tripling the top-up you add. For example, at the moment, if you add a £10 top-up they'll give you £20 free credit, totalling £30. If you add £15 then you wind up with £45. Add £20 and you get a £60 total.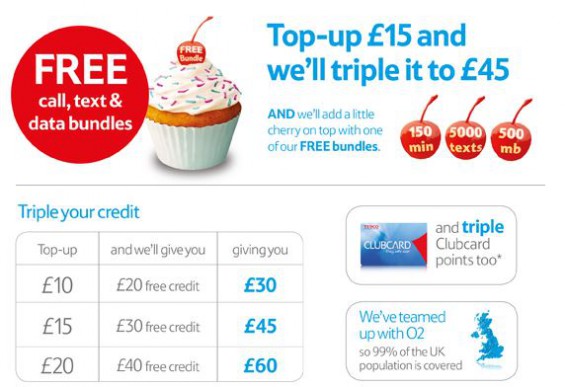 As for traditional pay monthly deals they do have a decent selection of handsets. The iPhone 5 is free on their £45 per month plan and that'll get you 2GB of data, 3000 minutes and 5000 texts over a 2 year plan. The Samsung Galaxy Note II is available free with 2GB of data, 1000 minutes and 5000 texts for £35 per month and the Samsung Galaxy SIII is £30 per month with 1GB of data, 500 minutes and 5000 texts.
Tesco also have a "Capped Tariff" feature which you can choose at the checkout. This basically means that there won't be any bill shocks. You'll get your usual monthly allowance but, if you go over that, then you can just top-up as if you were on Pay as you go, meaning that you have complete control over any additional costs.
All in all Tesco have a great selection of phones, lots of stores to get a real hands-on of the handsets (check any local Tesco) and fantastic customer service that they keep winning awards for. Sure, there's some that will need more data, but as an alternative to the traditional networks they're a fantastic choice.
Get more details on Tesco Mobile.