I was alerted to the DMZmusic Bluetooth dongle by a comment on Leigh's recent review of the StreamPort Universal. In it, Graham Eastham suggested that it wasn't worth spending £59.99 on the StreamPort and instead suggested the DMZmusic Bluetooth dongle for just over a fiver!
Having an eye for a bargain and being the inquisitive sort I just had to order one. I hereby present my findings.
First of all, it's got to be noted that this came directly from Hong Kong off an ebay seller, but it was brand new. I am always a little apprehensive when doing such things, but over the years I've never had any problems and this was no different. Within a fortnight it had arrived in perfect condition.
There's a link to the auction at the bottom of this review.
What's in the box
Errr… a Bluetooth dongle. Oh, and a tiny 3.5mm – 3.5mm jack lead.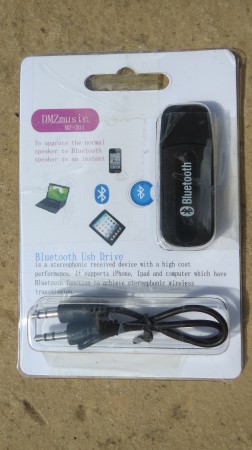 Tech spec
Bluetooth Standard: Bluetooth V2.0+EDR, support A2DP V1.2
Power supply: 5V USB
Output: 3.5mm Audio interface
Distance: 5-10 meters
Sound output rate: 44.1KHZ and 48KHZ
Total weight: 15g
Size: 55mm x 20 mm x 10mm
In use
The dongle is simply a USB plug at one end and a headphone jack socket at the other. The clever bit is housed in a plastic case that makes it look like a normal USB pen drive.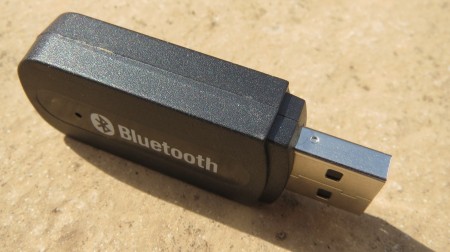 The minimal instructions on the back of the blister pack were good enough and within a couple of minutes of plugging it into my PC it was paired with my phone. About as easy as it gets really.
In the StreamPort review Leigh had connected it up through his hi-fi, and I was determined to do the same. Luckily my blu-ray player has a USB socket on the front that I could use for power. Once powered and paired to my phone, I connected a jack plug to a stereo phono lead between it and my amp. Sweet music then filled my ears.
Because I'm normally ham-fisted when it comes to stuff like this I made a video to show my mum. You can have a look too though…
I then tried it in my car and, by way of a cassette adaptor, I was streaming music from Spotify on my phone just as easily as through my amp. My mum would be proud! Just to show how easy it was I've made another short video to commemorate the achievement.
It should be noted that the dongle cannot be used as a car kit as it doesn't have a microphone.
The sound quality was acceptable, although there was a slight whine that could only be noticed when there was no music playing and the volume was high.
Then it all fell apart…
Seriously, it fell to bits in my hands as I removed it from the USB power adapter. Typical! I then noticed that it was simply a two piece construction that had become unclipped. I popped it back together, and it was only then that I realised it had never been properly assembled in the first place.
The best thing was that this stopped the whining, and the sound quality was also far better (don't ask, I don't understand either!).
Conclusion
My conclusion is based on the dongle once I'd put it back together, as I have to believe that this was a one off.
The DMZmusic Bluetooth dongle costs just over a fiver, including delivery. That's less than a phone docking station, and with this you can still use your phone as normal. It's also not phone specific, so no shelling out for a new dock each time you change phones (which is pretty often for me!). I reckon that's damn good value if you want to stream music through your hi-fi. Plus it can go in the car with you.
If you hadn't noticed, I'm a fan. Whilst it can't be used as a true Bluetooth hands-free kit in the car, I still think it's worth the money, should your car not have a Bluetooth enabled stereo. This one's staying in my living room, and I'll be buying another for the bedroom. Great shoestring tech, if you ask me.
If you do buy one, give it a squeeze together before you use it!