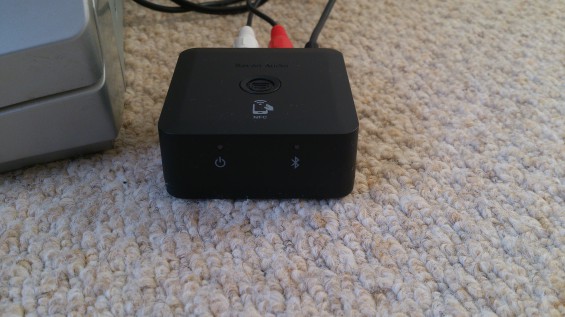 Let's see if this can be summed up in a few short words shall we? What we have here is a Bluetooth receiver that'll pump out an audio output to your existing stereo equipment.
Yep, that seems to describe it quite nicely.
It hit me this weekend. My son is 5. Personally, I can't believe he's 5 already but his party involved us renting out a large hall, a bouncy castle and some eating lots of birthday cake. He's mad about Mario Bros on the Nintendo at the moment, so the party became Mario-themed and he wanted the music from the game playing at his party. Simple enough, I thought, I've got some docks or a Bluetooth speaker that'll do that.
Trouble is, it didn't.
The hall is pretty big, and despite most modern docks and Bluetooth speakers doing a decent enough job in your kitchen or bathroom, they're pretty rubbish in a large hall. Not only that, but if you've invested in a beefy sound system then you don't really want to spend more cash on a Bluetooth speaker just so that you can stream music to it.
It's a surprisingly common problem. As people invest in flat-screen TV's they quickly find out that the sound output is pretty laughable. Sound-bars and speaker systems have stepped in to supply to much-needed "oomph" that people want, or that surround-sound quality that film-watchers desire. Then, when there's a tune you want to listen to on YouTube or SoundCloud, you see people getting audio cables out from their TV and.. well, it gets messy.
Sending audio via Bluetooth is becoming a very easy and quick solution. I've thrown my internet radio in the bin recently. Yes, partially because it was broken, but also because that I found my old HTC Desire S worked perfectly well as an internet radio and it could pump tunes out over Bluetooth.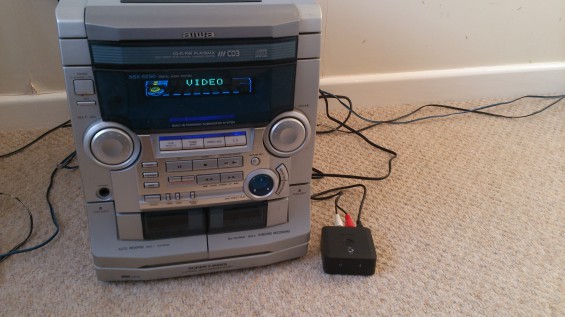 For those of you who have an existing audio system, one of those much-loved ones which you've saved for and love, this will act as the bridge between your phone and your sound system.
I instantly ignored the instruction manual. To be honest I've always used the same method of reviewing kit. If I can set it up and get it going without instructions then it's good, plus I'm a man, and real men don't need instructions 🙂
The main part of this is a small black box. On the back there's two RCA audio outputs or a 3.5mm audio port, so you can choose either one depending on what your system accepts. Inside the box there's the stereo RCA cable and the 3.5mm-to-3.5mm audio cable, so you don't need to worry about getting any additional cabling. There's a miniUSB port for charging, and there's an adaptor provided for this.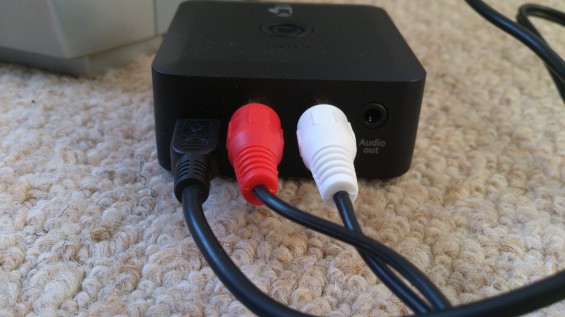 Plug the adaptor into the device, hook the cables from the back of the box into the AUX input of your stereo system / HiFi etc and then turn on the device. You'll hear some beeps initially and, if you need to, you can clear any previous paired devices by pressing and holding the button on the top. Two LED's shine up front – one for power and one for Bluetooth if a device is paired.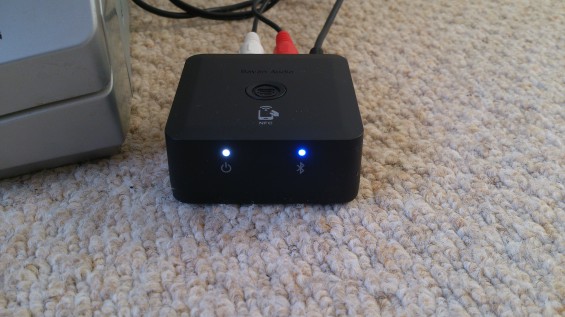 An extra feature here is the fact that the device will pair via NFC. If you don't have a phone with NFC, don't worry, you can still pair manually, but if you do have an NFC phone and wave the device near to it then it'll pop up on your phone and say, "Do you want to pair with this device". Pairing is easy enough and, for my phone, didn't require any code.
One you're connected you can pipe pretty much anything out of your phone. YouTube, Internet Radio, BBC iPlayer, whatever. At my sons' party we had a playlist which sounded utterly fantastic on the HiFi system we used. That HiFi system, by the way, is probably about 10 years old or more, but it's got huge speakers with a big, beefy bass response. With this I found that the audio performance was far better than any Bluetooth speaker I've seen and, when combined with this StreamPort Universal box, easily filled the large hall. Here it is in that very hall, getting music from a Samsung Galaxy SIII..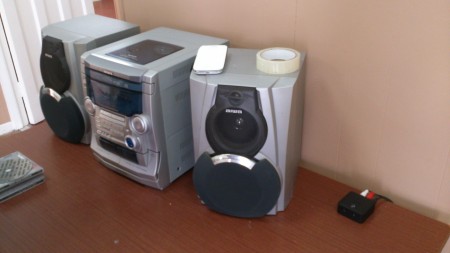 It's available from Bayan Audio for £59.99 in either black or white and, although the cost is more than some Bluetooth speakers, I'd definitely recommend this clever little box if you've already invested in a sound system or HiFi. I couldn't hear any difference in quality between this and when the 3.5mm audio cable was plugged into the phone directly, and the fact that I could simply find a video on YouTube and have it play in seconds, without having to faff around with wires well, that's something I love about wireless connectivity. Oh, and if you've got one of those 3.5mm audio inputs into your car stereo, why not power the StreamPort off your car charger, put the output into your car stereo and then enjoy driving without the wires? 🙂