The Nokia Lumia 520 was released a couple of weeks ago, so I rushed out and bought one so that I could review it for you lovely people (how selfless, right?). I set it up, gave it a first impressions review, then turned my Nexus 4 off. How long could I live with a £100 Windows Phone 8 handset instead?
I have to confess that I'm not only new to the world of Windows Phone, but I'm also new to Nokia. Yup, 15 years of mobile phones and I've never owned a Nokia… until now. The other point to make is that like many of the writers at Coolsmartphone I have two regular phones, a Samsung Galaxy Note II and the previously mentioned LG Nexus 4, so I didn't go completely Android cold turkey. But could I have?
Right, to the phone!
Good
Price
MicroSD card slot
Dedicated camera button
Responsive screen
Bad
Lack of camera flash
Screen not very vibrant
Plastic feels a bit cheap
Power button in an awkward place
Design
The Lumia 520 is a pointy rectangle, there's no way around it. It has a fairly large black surround to the 4 inch IPS LCD screen. At the bottom of the surround are the three capacitive buttons for navigating the phone and searching Bing, whilst at the top it declares itself a Nokia.

On the right hand side you'll find buttons for the volume up and down, power, and a dedicated camera button (more on that later). The top houses the headphone jack socket. The USB/charging socket sits on the bottom edge, and the left hand edge is blank.

The back shell is nicely curved and is pretty sturdy, however, it does feel a bit cheap. My big problem with it is how little grip there is. It makes the phone a slippery customer that has almost hit the deck several times already.
The shells are available in white, yellow, red, and blue. Spare shells are available, so if you decide you don't like the colour the phone came with you can cheaply and easily change it.

The design is simplistic and not exactly stylish. However, one can tell at a glance that it's part of the Nokia Lumia range, and that it's most probably going to be running Windows Phone. The bright, pointy rectangle is a direct echo of the live tile user interface that we know and love/hate.
Technical specifications
Screen: 4 inches, IPS LCD, 800 x 600
Processor: Qualcomm Snapdragon S4, dual core, 1GHz
RAM: 512 MB
Storage: 8GB onboard, microSD card up to 64GB
Camera: 5 megapixels, no flash
Video recording: 720p, 30fps
Wi-fi: 802.11n/g/b
GPS: Yes
Bluetooth: Yes
Battery: 1430 mAh, removable
In Use
The screen on the 520 is surprisingly good, considering it's spec. The 4″ form factor is a little dinky by today's standards, but it's resolution and pixel density are perfectly acceptable for the price and it's as bright as anyone could want. Using it in direct sunlight is a challenge, but that can be said for many an expensive phone too. The colours and contrasts are an issue; whites are decidedly grey, and the vibrancy is missing from the garish tiles that Windows Phone is famous for.
Fingerprints are my major problem with the 520's screen though. Yes, all touchscreens pick up finger fudge but, in general, a quick wipe with your sleeve will clean things up perfectly adequately. For some reason though, the 520's 'scratch resistant' screen seems to hold on to the smudges. I found myself having to get out the screen cleaner on more than one occasion to get through the grime. Why this should be, I've no idea, but I regularly use a variety of touchscreen devices, none of which end up looking like I've smeared Golden Gum all over them. Apart from the Nokia.
Having said all of that, the screen is actually very responsive, making the swipe dominated control of Windows Phone 8 joy to use.

One minor gripe I have is with the position of the power button. It's just above the middle of the right-hand side, between the volume and camera buttons. My problem is that it's very easy to knock when trying to quieten the volume and, perversely, quite hard to find without looking when trying to turn the screen on and off. It could just be that I'm too used to the general layout of Android phones these days, and I've got use to it now, but would have preferred it to be in the top or the opposite side to the other buttons.
Battery
In my initial impressions review I said that I wasn't impressed by the battery. I have to take that back, because after a few charges I found that it was giving about a day on a full charge, and I use my phones a lot (4 email accounts and a Twitter account syncing every couple of minutes, lots of IM's and a few calls at absolute minimum). Whilst we'd all like better life from our handsets, the diminutive battery is about right for this size phone.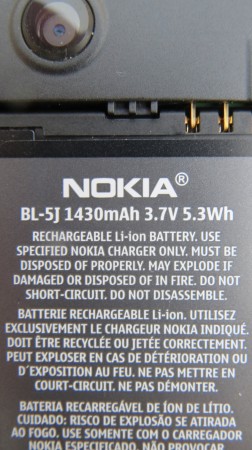 The Camera
Nokia say that the 520 uses the same lense on the camera as is used on their high end devices. Despite this the camera is decidedly average. I've included a selection of the photos I've taken, which are perfectly acceptable for a phone at this price, but it takes a while to auto-focus and the amount of shutter lag is just too much these days.
There is one major omission from the camera, in fact it's the biggest downside to the phone in general, it has no flash. Yes, Nokia are building a reputation for having some of the best camera-phones ever made, and they've taken away the 2 pence LED flash.
The 520 is pitched at the sort of people who will be snapping photos for Facebook, for example, not a professional wanting an office in the pocket. The lack of flash will render the phone useless for this on a night out. The picture of my friend's cat's face below was taken in candlelight and then enhanced as much as possible with the phone's software. As you can see this wouldn't be good enough for posting to Facebook.



Shame on you Nokia. Of all things to miss out, the flash isn't one of them.
On a more positive note, the 520 does have a dedicated camera button; something I really like. (I'd have traded it for a flash though!).
The inclusion of a microSD card slot means that for an extra few quid you'll never run out of storage for all the pictures of your family, friends, pets, oh and what you had for dinner of course.
Software
On the whole, Windows Phone 8 is what it is, but on the Nokia Lumia range there is a great suite of extra apps called Nokia Exclusives. These include Nokia Music for free streaming music, Nokia Pulse Beta for messaging, several navigation apps, some photo editing tools, as well as games and more. These make for a decent user experience without trawling through the Windows store.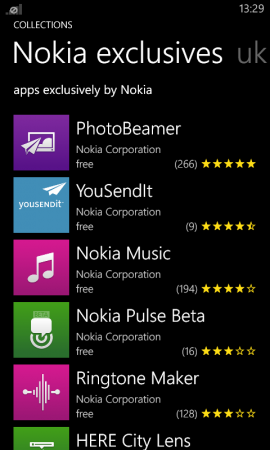 Conclusion
During this review I've come down pretty hard on some aspects of the Nokia Lumia 520. It is a budget phone though. I bought it in a Carphone Warehouse special for £100, and for that sort of money it's a very accomplished handset. For the whole time I've had it my Nexus 4 has remained in it a drawer (apart from for some Photos at the S4 launch event). That's got to say something in itself.
If you need a cheap phone that can do all the basics without having to worry about it being chucked about, then the 520 is just the job. I intend to take it to a couple of festivals over the summer where I'd always be worrying about my other phones.
It's also been an affordable introduction to Windows Phone, which I recommend anyone does before plunging into a 24 month contract with a Lumia 920.
Overall, the Nokia Lumia 520 is a nice, cheap bit of fun. If the lack of a camera flash doesn't bother you then you've got very little to loose by giving it a go.