I love my iPad. I use it all the time, every day, mostly on my sofa. It is quite heavy though, and slightly uncomfortable to hold for long periods of time. That's where the O-Stand from LapDawg comes in.

The O-Stand from LawDawg looks slightly like something out of War of the Worlds but is actually a multi-function stand for the iPad. the bottom half of the stand is constructed of very strong, but flexible legs, which enable the stand to be incredibly versatile. There's the standard set up where the four legs form a square base, and many others too.
Below for example is a picture of the O-Stand being used to hang my iPad from the door. Because the legs are flexible, this reconfiguration really doesn't take very long at all. I also used it to watch Netflix in bed and my kids loved watching Peppa Pig on the sofa. The legs, and the 'ball' to which they join in the middle feel incredibly solid, and well put together. The part which actually holds the iPad is plastic, but does give a pretty good grip on the iPad, it certainly seems safe once tightened properly. How durable the plastic parts of this part of the device are remains to be seen, as they're constantly under various degrees of strain. LapDawg do offer a lifetime guarantee against a defective product, however.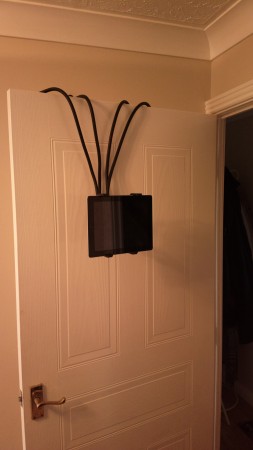 It's worth noting too, that although the stand itself is designated as an iPad stand, the grip will actually hold many other tablets and e-readers. Exact dimensions of what can be held are listed on the LapDawg website. There is also a lovely video showing various uses, showing off how easily the O-Stand will stop your back and neck aching from all that Angry Birds..
The LapDawg O-Stand is available from the LapDawg website for $79. Shopping to the UK is a rather eye-watering $81.45 however, and bear in mind you will almost certainly get a lovely letter from customs asking you to pay VAT on top.
I've enjoyed using the O-Stand in the time I've spent with it. It's particularly practical if you tend to watch videos for longer periods of time on your iPad.  I suspect until a U.K. distributor is found, the expensive postage charge will put off potential buyers.
If you have any questions about the O-Stand, I'm happy to answer them. Please leave a comment below, or use any of my contact details which can be found below.
Link – LapDawg