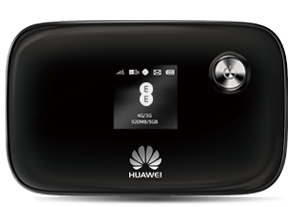 Today EE have announced the launch of the UK's first first next-generation 4G device, the Huawei E5776 mobile Wi-Fi hotspot.
It's a pretty regular Wi-Fi hotspot that allows up to ten wi-fi enabled devices to access the internet on the EE network. The difference, of course, is that it uses next-generation 4G data speeds.
In exceptionally complex and technical terms, 4G (or LTE, to give it its proper name) is super fast mobile data, whereas next-generation 4G is super-dooper fast mobile data.
The one sticking point is that the next-generation 4G network won't be switched on until June. Until then it will still allow access to the EE standard 4G network (reception permitting).
However, Rhys Saunders, Sales Director at Huawei Device, still enthused that:
We are delighted to be developing and rolling out the very latest 4G mobile technology with EE in the UK. The Huawei E5776 mobile WiFi means all manner of connected devices can take advantage of the new superfast network speeds EE is making available in the UK.
The Huawei E5776 is free on any of EE's existing 4GEE Mobile Broadband plans, which start at £12.99 per month with 1GB of data, and work upwards from there. Special business plans are also available.
There's also a 30 day free trial plan if you want to try before you buy.
Product Specs
Dimensions: Height 106.4 mm x Width 66 mm x Depth 15.5 mm
Weight (grams) < 150 g (including the battery)
Fixed USB port
Memory: 128MB Internal memory, Micro SD up to 32GB
Want to know more? Well press releases are lovely, but don't just take my word for it, why not take a look below?
Either that or trundle over to the EE mobile broadband page.