Whilst browsing around eBay I found a number of listings for "spy software" designed to snoop on the phone use of friends, relatives, colleagues or people you don't like very much. After becoming intrigued I stumbled across StealthGenie, which is charged in monthly installments.
The spy software is available for Android and iPhone and you can either pay $8 (around £5.22), $13 (£8.47) or $16 per month (£10.43) depending on the features. The Basic package will let you see Call History, all the phone-based contacts and you can read all the incoming and outgoing text message. There's also the ability to view bookmarks, internet history, appointments in the calendar and whether the SIM card has been changed. Oh, and you also get chance to track the handset.
All of this is done through a web based control panel and, according to the developers, the software is 100% undetectable. You can also remotely control the handset using a text command. The web panel though is probably the easiest and quickest way of looking at the handset or handsets that you're monitoring. There's even call recording on the Platinum package, plus you can record "phone surroundings" and listen live to the output – real evesdropping!


Here's the email screen, where you can look at the mails received. The same can be done for texts, plus you can setup alerts which will trigger when certain words are entered.


Here's the browsing history. This is where you can quickly find out what pages have been visited. Has your employee / soon-to-be-ex-friend been checking sites they shouldn't?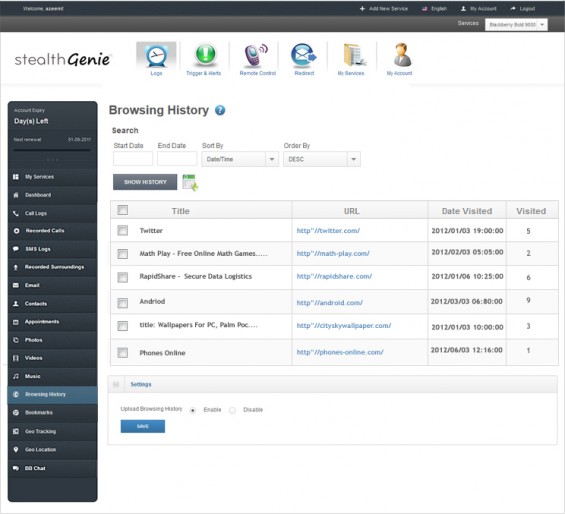 Tracking is another feature, and you can see both the current location plus the historical information about the "target" you're tracking.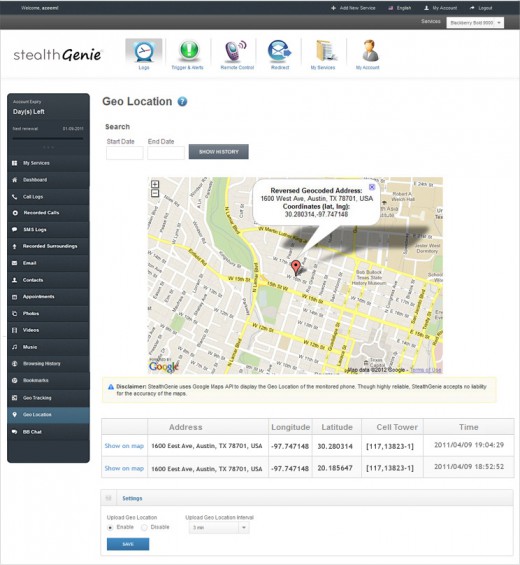 There's also triggers, so you can get alerted if the person you're snooping on calls a certain person or uses certain words in a text message. The same can be said for emails too. Just add an email address and, when a mail is sent to it, you'll be notified. Some of these features depend on the package you go for though.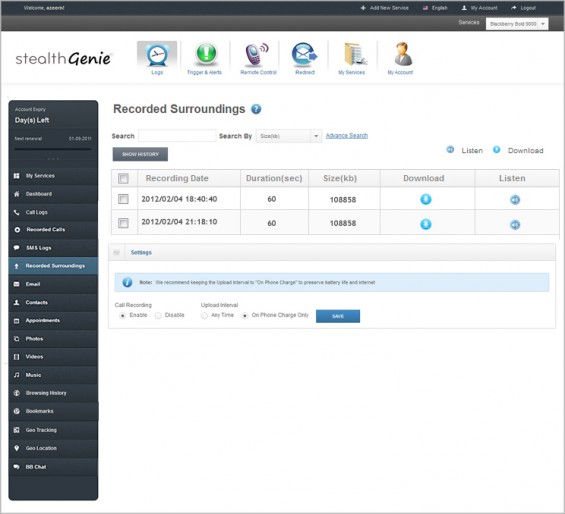 The system includes a full support team and you can try out the dashboard online right now on StealthGenie.com, just hit the "Live Demo" button.
Now yes, I know what you're thinking. "Gears, this is all a bit creepy, you're snooping on people". Yes, it is. It could be a fast-track way to end a friendship or relationship, but it also gives you a way of monitoring your children to check where they are or to keep an eye on employees, especially if you're the one who's bought the phone and paying the data plan. Either way, whatever your thoughts, this is a very detailed but easy-to-use system which you can get for for Android, iPhone and BlackBerry, plus you can give it a try online.