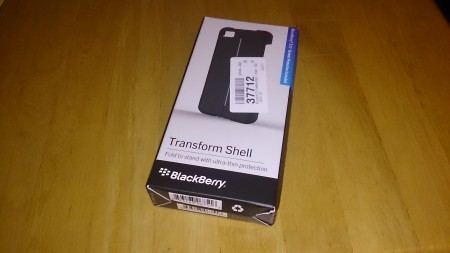 There have not bee a huge a mount of decent quality cases out there for the new Blackberry Z10. Howevere Blackberry have come to the rescue as they normally do when they release a new model. Infact the have released several different case all of which can be found at Mobilefun.
The guys over at Mobilefun were very generous to send out on of these Blackberry cases for me to review. so here we have the Blackberry Z10 Transform Case in black. This case costs £15.99 with same day shipping if ordered before 6pm.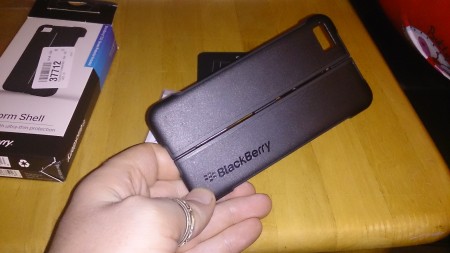 The case comes in a fairly bland box typical of all Blackberry accessories. Upon opening the box we find that their is not just the case but also a screen protector as well, allowing for total coverage of the device. the case itself is made from a tough but flexible polycarbonate allowing very good impact protection whilst also being light and flexible. this flexibility is of paramount importance for the case to fulfill its namesake party trick of Transforming. By folding the side of the case opposite camera opening, the case can be sat at a 45 degree angle allowing for you to view video on the great screen.
All the ports and buttons are clearly accessible from the sides and the top and bottom, the case also does not add that much bulk to the phone whilst making the it grippier to hold onto (although this was not really an issue on the Z10).
This case allows for the phone to be both protected and enhanced via the transforming function of the case. it allows you to potentially use the phone in all sorts of circumstances and is ideal for traveling as it fits nicely onto a tray table on the train etc.
I have been very impressed with the case itself and I will be buying one for my Z10 for certain to add to my pouch style case that I already use. If you are looking for a good solid case that will enhance your phones usability then this one to defiantly check out and more info can be found at Mobilefun.