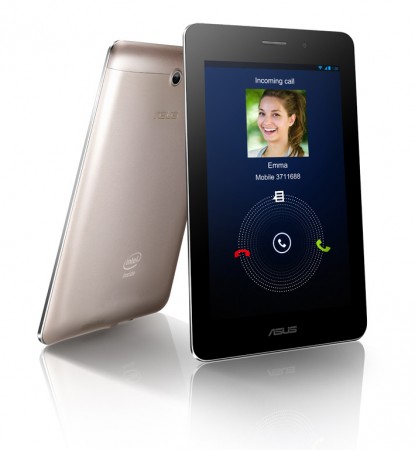 Do you have a massive head? When I say massive, I'm talking equine. If a Samsung Galaxy Mega 5.8 is too tiny for you, and the Huawei Ascend Mate won't quite do it either, then the Asus Fonepad could be just the phablet you're looking for.
Yes, it's the biggest phone since the eighties, and it's coming to the Carphone Warehouse for £179.99 SIM free. Ah… at that price I think maybe I should stop joking.
The Fonepad is basically a 7″ 3G tablet with built in voice call/SMS functionality, and if you take a look at the specs below you will see that even without the phone capability it's a pretty decent tablet for the money.
Processor: Intel Atom Z2420 1.2GHz
Graphics: Imagination PowerVR SGX540
Screen: 7-inch 1280×800 IPS touch screen
RAM: 1GB
Storage: 16GB, microSD slot, 5GB lifetime ASUS WebStorage
Communications: telephony, 3G, Wi-Fi, Bluetooth and GPS
Imaging: 1.2-megapixel front facing camera
Power: 4,270mAh battery
Construction: Grey or gold "metallic design", 196.6 х 120.1 х 10.4mm, 340g
Software: Android 4.1 Jelly Bean (4.2 upgrade "as quickly as possible")
Priced at £179.99 inc VAT
If you compare the Fonepad to the Nexus 7 tablets (also made by Asus) you'll notice that it's cunningly priced at £20 more than the 16GB wi-fi only version and a whopping £60 cheaper than the 32GB 3G + wi-fi variant. It also has a microSD card slot which is one of the major features sadly omitted from the Nexus. OK, so the battery's a bit smaller, the Android version is one step behind and it's got an Intel processor, but this awkwardly named underdog deserves serious consideration.
In fact, that processor does throw up some interesting possibilities; it's based on x86 architecture and therefore, in theory, could run Windows. I'm no developer, and I really couldn't say how much work it would be, but imagine a 7″ dual bootable Android Jelly Bean/Windows 8 handset! Not so funny now eh, Mr. Whelan?
The stock will be arriving at Carphone Warehouse on Friday 26th April, but if you want to reserve yourself one then get over to their web page this Friday (12th April), because that's when pre-ordering starts. In the mean time, sit back and enjoy a short film about the Asus Fonepad:
http://youtu.be/TuMHScgnRUI
Source – Techradar