If you're looking for the Samsung Galaxy S4 then you'll probably be weighing up the options before entering into another long contract. Right now there's a number of deals if you pre-order the Samsung Galaxy S4 in particular. Carphone Warehouse are offering up a free accessories bundle which is worth at least £79.96 and, if you have the cash, you can buy the phone out-right for £579.95 SIM Free.
The accessories bundle includes a smart Samsung flip case to keep your shiny new Galaxy S4 protected, a Rocketfish car charger to keep you juiced up and a Rocketfish screen protector to guard against scratches. Not only that, but you get a huge 32GB memory card. When you add that to the 16GB on-board it gives you 96GB of storage to play with. You'll get the bundle when placing a pre-order for a Samsung Galaxy S4 on a new or upgrade pay-monthly deal. The Galaxy S4 has a 5″ HD Super AMOLED screen, 1.9GHz quad-core Snapdragon 600 CPU, 2GB RAM and two cameras – a 13 megapixel at the back and a 2 megapixel shooter up front. In addition you get 4G capability, NFC, WiFi, DLNA, Bluetooth 4.0 and a 2,600 mAH battery.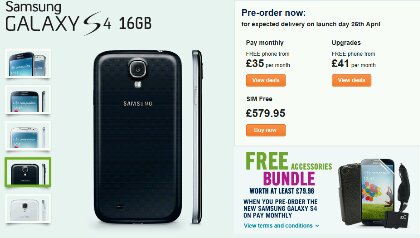 Check out the full deal on the Carphone Warehouse site or get lots of additional in our earlier story. The phone is completely free from £35 per month or, on upgrades, for £41 per month.