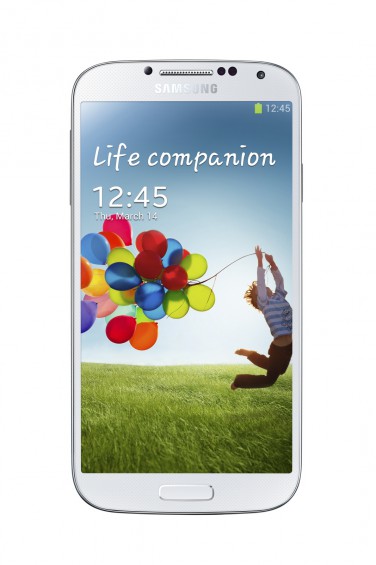 So yes, those leaks were right and yes, you can control it using your eyes. In a somewhat strange cabaret-style launch in NYC this evening we were treated to some of the features of the all-new Samsung handset.
First though, the official specs. It's powered by Android 4.2.2 (Jelly Bean) and has a 5″ Full HD Super AMOLED 1920×1080 display at an amazing 441 dpi. It's powered by a 1.9GHz quad-core CPU / 1.6GHz octa-core CPU depending on the market (yes, 8 cores baby).
The camera technology is fairly usual – a 13 megapixel camera (wth flash, zero shutter lag, BIS) and a 2 megapixel one up front. However, they can be used in a new and innovative way, allowing users to film and include themselves in videos whilst also filming others on the back camera – almost like editing on the fly.
The "Smart Scroll" and "Smart Pause" technologies were shown off (more on this later) as were the "Air Gesture" and "Air View" functions – again, more on this later. The device also has an IR port, so you can see that it's not just the HTC One that has gone down this route.
Further specs can be found in the full press release below, but you get WiFi 802.11 a/b/g/n/ac, GPS, GLONASS, NFC, Bluetooth 4.0, accelerometer, RGB light, Geomagnetic, Proximity, Gyro, Barometer
Temperature & Humidity and Gesture. There's 16GB, 32GB or a whacking 64GB of user memory (depending on the model) and a further 64GB can be added through a microSD card, giving you a max of 128GB if you get the right model and the right microSD. Wowser.
It's powered by a 2,600mAh battery and is 7.9mm thick. It measures 136.6 x 69.8mm and weighs 130 grams.
We'll be following up shortly with more details on the software and other features, so keep tuned in.