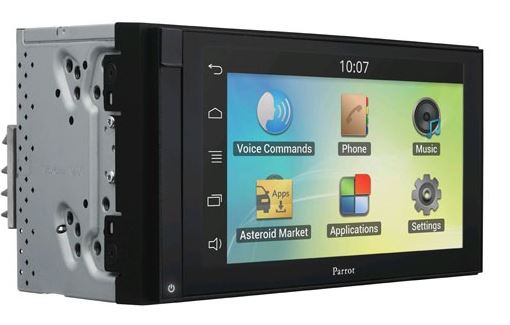 If sticking your tablet or smartphone into your car isn't enough, how about slotting this into your dash? The Parrot Asteroid Smart is more than just a sat nav in your dash, heck this is a music centre, phone, App Store and a whole lot more. Inside there's voice recognition, Bluetooth and yes, it'll tell you how to get to places too.
There's a helpful video below showing you how it all works in true "looks a bit like the LloydsTSB advert" stylee.
The Asteroid Android has a special App Store called Asteroid Market which has a selection of apps which are ideal for your road warrior travels. Internet radio apps, driver assistance and the likes. It'll connect to the web via your smartphone, dongle or MiFi access point.
But would you really want one of these? Is there a point? Sure, it'd look nice, but is it worth the money and the dashboard space? Let us know your thoughts in the comments. Meanwhile, I've had a quick look around and you can get the Parrot Asteroid Mini for around £249.95 which sort-of sticks on top of your existing dash or the one we're discussing here, the Parrot Asteroid Smart which slots into your dashboard for £479.99.
Personally I'd prefer the DIY Nexus 7 job 🙂