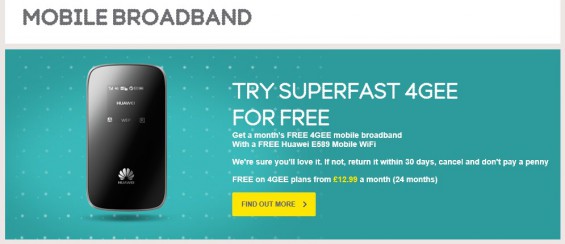 Sometimes thing seem to good to be true and no doubt I've missed something here but if you've been wanting to try out the supposedly "superfast" 4G now might be your chance. Basically EE are offering a free 4G MiFi for a month to try out.
DON'T JUST BELIEVE US… TRY FOR FREE

We're so sure you'll love superfast 4GEE Mobile Broadband that we're giving it away for free. Well, for 30 days.

Simply sign up for 24-months and EE will give you a Huawei E589 Mobile WiFi device and your first month's internet access for free. We're sure you'll absolutely love it, but if for any reason you're not happy, you can return your device within the first 30 days and we'll cancel your contract.
By the sound of it you will get set up on a new 24 month contract and you have to return the device within 30 days. I've signed up for one, just to try and find out how good/bad the coverage in Nottingham is.
If your interested head over to the Mobile Broadband page here and don't forget to get it back to your local store within 30 days or your suddenly going to get a bill for the damn thing. Also if you fancy seeing someone unbox one of these head over to this article here where Dan showed us what to expect.