A few years ago I thought that to have a small lightweight easily transportable device you would have to get an iPad or an Android Tablet. Or get cross with a Netbook or break the bank and get a fancy Ultrabook. I settled for an Android Tablet a while back and constantly got annoyed with it's limitations. Various kinds of websites didn't work, anything more complicated than browsing would invariably break and then there was the app situation.
A while back I bought a Microsoft Surface RT tablet and I had my eyes opened to what Windows 8 could actually do. Yes there were a few problems with it, but the more I used it the more I realised I wanted something just a little bit more powerful and just a bit bigger. The Surface Pro seemed ideal but I still fancied seeing what a fancy Ultrabook would be like.
Acer offered to send me an Aspire S7 touchscreen Ultrabook and after checking out the specs I decided it might be the machine for me. Light enough to carry around and the whole Windows 8 thing would mean I could get my fill of apps and games.
Having used the Aspire S7 for a few weeks now and having left my Surface RT and Transformer Prime in a cupboard It's time to let you know how it's gone. Starting with my good and bad points
Good Points
Great build quality
Intel Core i5 CPU
1080p screen is astounding
13″ touchscreen makes navigating easy
Nice range of accessories in the box
Bad Points
Glass lid feels like it is going to break one day
Sealed battery and chassis hinder longevity
Screen isn't detachable
Windows 8 is a mess
Cost is a bit high
the backlit buttons are hard to see in bright light
Design
The Acer Aspire S7 is a looker, whilst opening the box up I was amazed at the quality of the device. A mix of Aluminium, Glass and Plastic, it really was ticking boxes in my head from the moment I unpacked it. Once out of the box the S7 is really light and has a nice feel to it.
The lid is a mix of metal and glass, the frame is made of metal and has a machined curve cut into the edge of it, this gives you a slight lip to grab onto whilst opening the S7 up, the lid has a Gorilla glass lid and a touchscreen front. The glass lid really makes the S7 look special, you really want to touch every part of the S7. Although every time I put it down I do worry about getting it scratched or broken. Luckily Acer ship a nice leather flip case with the S7.
The bottom part of the S7 is made of plastic and metal, the base is white plastic, with two speakers positioned at the front, the back edge has a wide fan running across the width, this fan is the only cooling vent and after a while the noise coming out of there is audible.
The keyboard is nice, feedback is good and typing at speed is possible. The keys are backlit, which from certain angles in daylight makes them hard to pick out. The keys are plastic and the lettering is made of see through plastic, the light shines through and next to the silver buttons you can't really see which is which. Normally I wouldn't need to see which is which, but the buttons are slightly out due to the caps lock, shift, enter key arrangements. It is something that is minor though, you'd soon work out where everything is.
The various ports are arranged on either side of the chassis, with Micro HDMI, 2 X USB 3.0 ports, headphone jack, power point and thepower button.
Quite surprisingly in the box you get the following, a leather style flip case, a white power cable, an MHL to Ethernet cable, an MHL to VGA cable, both of which plug into the Micro HDMI port and also a white Bluetooth mouse. All of which really made the S7 a complete package.
Hardware
There are a great many things in the S7 that make it a great laptop, the screen being the top of the list, at 1080p it shows some great detail and has surprisingly good viewing angles. Trying to read it from above, below or beside doesn't morph text like you get on cheaper screens.
The CPU, GPU and RAM really make a nice combination, you really do fly through the UI, swiping away at stuff and getting dumped unceremoniously into the desktop environment now and again. Using a real Windows 8 device with a desktop grade CPU really shows me how lacking my Microsoft Surface RT tablet is.
Battery life isn't astounding, you get a good few hours out of it, like you'd expect with a really thin and light ultrabook. In this point lies the compromise, you get a tablet like the Surface to get improved battery life and reduced functionality. Or do you get an ultrabook with bucket loads of extra functionality but worse battery life.
The touchpad on the S7 is really nice, albeit a bit clicky. It supports multi touch gestures as well, so you can scroll through websites, zoom into pictures, scroll through the UI, open the charm bar and probably some other stuff I haven't found. It is a nice size as well.
The specs are as follows
Operating System Windows 8
Core i5 -3517U 1.70 GHz Cache 4 MB 64-bit
RAM Memory 4 GB DDR3 SDRAM
Memory Card Secure Digital (SD) Card MultiMediaCard (MMC)
Storage Solid State Drive Capacity 128 GB (about 78GB free out of the box)
Display Screen Size 33.8 cm (13.3″) Active Matrix TFT Colour LCD
Screen Resolution 1920 x 1080 Full HD Touchscreen
Graphics Intel HD 4000
Wi-Fi Standard IEEE 802.11a/b/g/n
Bluetooth 4.0
Webcam
Microphone
Micro HDMI
2X USB 3.0 Ports
Battery Capacity 2340 mAh 4 Cell Lithium Polymer
Physical Characteristics Width 323.3 mm Depth 223.5 mm Weight (Approximate) 1.30 kg
Software
The more I use Windows 8 the more I get used to it. In the past I had an expectation of what should happen when you try to do something, like plugging a memory card full of pictures into your laptop or trying to connect your laptop via a Micro HDMI cable. Then along came Windows 8 and tried to reinvent the wheel and everything I have ever know is now slightly different. I've been using a Microsoft Surface for a few months now and I've pretty much got to grips with Windows 8, although using the S7 has turned up a whole load of new features/bugs in the OS I have never spotted before.
Acer haven't really installed much bloat on the S7, I guess they've come to realise that Windows 8 pretty much has you covered on the app front, especially as SkyDrive is basically baked into the OS. No struggling to setup Acer Cloud for me this time.
The 1080p screen is glorious whilst using the Modern UI side of things as the apps in there are optimised for the screen sizes, but browsing the web or using the normal desktop mode and you suddenly start to have to zoom in a lot or reach for the mouse to press the tiniest of buttons. Although the large resolution did allow me 5 rows of app tiles, which was nice.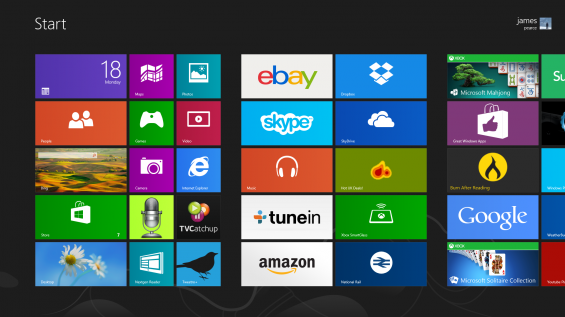 Conclusion
The Acer Aspire S7 is a great device, it really showcases what Windows 8 is really about. Therein lies the problem, with a totally touch optimised interface you'd absolutely love the S7, for me the split personality of Windows 8 detracts from the glorious hardware on offer here. I guess it is something you'd get used to, I just wish Microsoft made more of the whole Modern UI side of things. The times you end up using the desktop mode are painful, especially using the touchscreen.
The Acer Aspire S7 is available online for around about £1200 which for me is a step too far, you could buy a whole lot of other stuff for that or even a Chromebook Pixel!