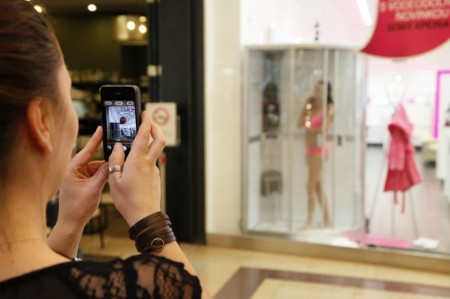 Ever found yourself in a shower with a hot model and really wish you had a smartphone with you to tweet the moment? No, me neither, but just in case you do T-Mobile have the answer.
T-Mobile CZ have finally proved beyond doubt that tech can be sexy by launching the waterproof Sony Xperia Z in their Prague store with the help of a couple of models and a shower cubicle.
Shoppers' heads were turning when a shower was installed in the corner of the T-Mobile CZ store in The Palladium shopping centre in Prague, but when two models appeared dressed only in swimwear a crowd started to form. I can't believe many of them were disappointed to see them getting drenched whilst using their shiny new Xperia Zs.
Judging by the lack of photographs provided of the guy it would seem that the young lady was the most popular attraction! You're going to have to look long and hard at these photos before you see the phones though. Well, I did anyway…
Source: T-Mobile CZ Facebook