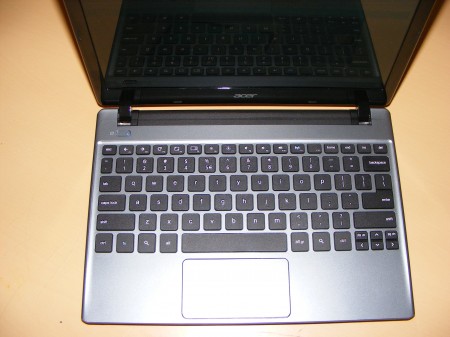 The move to the cloud is becoming an almost irresistible force with remote storage being offered by companies such as Dropbox, Google (Google Drive), Apple (iCloud) and Microsoft (Skydrive).
Possibly the first batch of devices to attempt to fully utilise this move are Google's Chromebooks which run the Chrome OS.
Essentially, most things on a Chromebook are completed from within the Chrome browser and everything can be stored within the cloud.  This leads to a lightweight OS with minimal boot times and a familiar interface.
Now thanks to the nice people over at Acer, I have been using the entry level C7 Chromebook for the last couple of weeks and following up from my initial impressions, here is my full review of the device.
Hardware.
Open up the box and you are faced with an all plastic, gun metal grey device that is sized somewhere between a notebook and a laptop.  The lid is adorned with the Acer and Google Chrome logos and upon opening you have a chiclet keyboard and buttonless trackpad.  The power button is located at the top left and has a blue led.  The screen is an 11.6" 1366×768 HD display surrounded by a black bezel with the Acer logo at the bottom.  Located at the top is the inbuilt webcam.
The full specifications are as follows:
11.6″ (1366 x 768) HD display

High-brightness, 200 nit screen

HD Webcam

285 x 202 x 27.35 mm

3 lbs / 1.38 kg

Dual-core Intel® Celeron® Processor

3 x USB 2.0

1 x HDMI

1 x VGA

2-in-1 card reader supporting: Secure Digital (SD) Card, MMC

2 GB DDR3 RAM

320 GB Hard Drive – 5400 RPM

Stereo internal speaker

Headphone/microphone jack

4 cell, 37 Wh battery. Up to 4 hours*

WiFi 802.11 a/b/g/n 2×2

Built-in Ethernet
Located on the left hand side are the ethernet, VGA, an HDMI and USB port while on the right are two more USB ports, the headphone / microphone port and the power port.
On the bottom of most laptops you have the ability to access the hard drive and the memory ports.  Unfortunately this option is not available on the Acer Chromebook, as the entire unit is sealed and the warranty is voided when opened.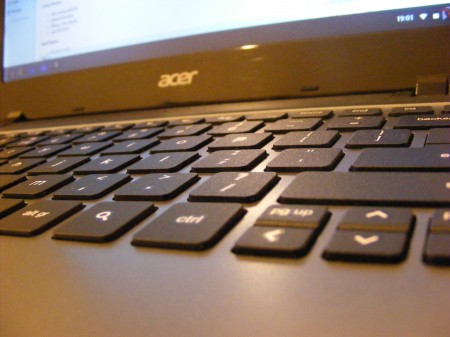 There is a bit of a paradox with the Chromebooks design.  What looks like a cheap device from the outside does not feel the same when opened up and there are a couple of nagging issues.
Firstly, the keyboard.  Whilst comfortable to use and nicely spaced the fact that the enter key is not full sized and has the # button above it leads to quite a few incorrect key presses and frustration.  Secondly the unit that I was provided with for review had the american keyboard layout.  For someone that spends a lot of time typing and knows where the keys are laid out on an English keyboard this is not a problem but for a novice this could lead to quite an issue.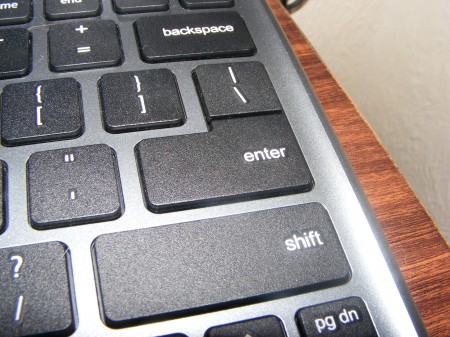 Secondly is the screen.  When viewed head on and on mains power it is nice and bright, clear and concise.  Change the angle and everything appears washed out or just becomes almost unreadable.  The viewing angle could certainly be regarded as a downside.
Another conundrum is the fact that a 320GB hard drive is included.  When the push is being made towards cloud storage and 100GB of Google Drive is part of the package why would anyone need a hard drive of such size.  Surely a better inclusion would have been a faster, smaller SSD instead?
The trackpad is generally good to use, whilst there are no physical button, you can click the front of the pad for a left mouse click. Right mouse button is emulated by using two fingers whilst scrolling is achieved by holding one finger on the pad whilst sliding the another up or down.  It takes a little getting used to but after a little time it became second nature.
Battery life is quoted at 3.5 hours and this is precisely what I seemed to get. Nothing exceptional but certainly reasonable.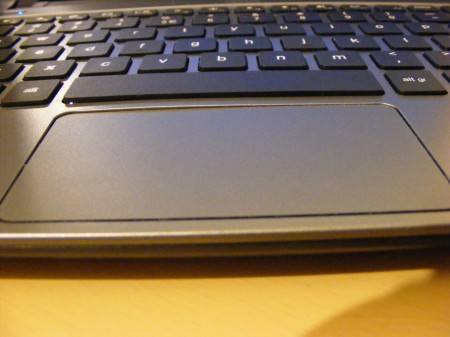 Software
Its a web browser.  Its Chrome.
The whole point of the Chromebook is simplicity and you get that in bucketfuls with the Acer.
The issue isn't around what it can do more around what it can't.  Whilst promoting cloud storage and Google music, where is the option to rip cd's?  Want a fully specc'd photo editor?  Look elsewhere.  Video editing? Not a chance.
Perhaps I am being a little harsh but I am certain that neither Google nor Acer would be promoting this as a secondary machine and if as suspected this is meant to be a replacement for a laptop or desktop machine then there is a long way to go and many other functions to add.  The fact that you cannot connect your Google phone in order to use the developer functions is ludicrous.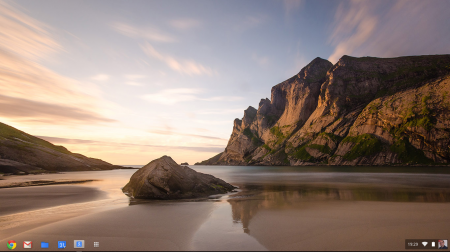 Sure, with Google Drive you get a word processor, spreadsheets, in fact basically a functional office replacement but you also get it with no bells and whistles or fancy stuff.
You can have unlimited add-ons  / extensions that add a whole heap of functionality ranging from gaming to desktop notifications for your android device.
In terms of speed the Chromebook is rather good.  A boot time of around 20 seconds, background updates, the option to personalise Chrome and not once in the two weeks that I have so far used the machine have I experienced a noticeable slowdown or did the software crash.  Stability is key and this seems to have been got right.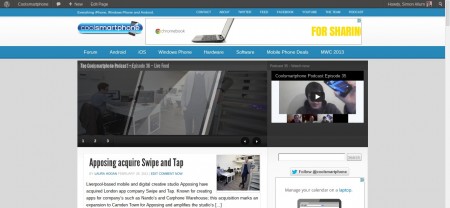 Conclusion
Since the Chromebook was delivered I have not picked up my laptop or netbook.  Light and portable, easy to use and stable, the Acer C7 has become a firm favourite and I shall be sad to see it go.  That is not to say it isn't without its issues and it certainly isn't perfect.  The keyboard would be a pain for a new user and the Enter key is just plain annoying.
The lack of certain features prevent it from being a fully fledged desktop or laptop replacement, a professional photographer shouldn't even think about going near it for example.
It is a great little device that I found myself using when presented with several options, the speed of the device is good as is the stability and if your thing is simply Facebook, a little web browsing and perhaps the odd document creation then the Acer C7 could well be for you – just don't expect it to totally replace your main computer.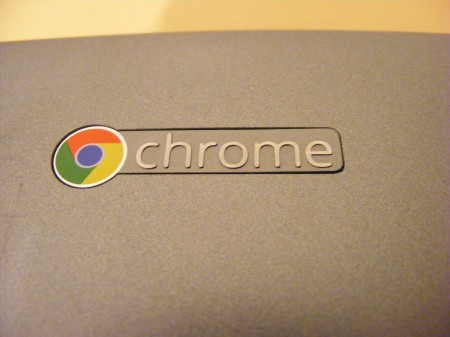 The Acer C7 Chromebook is available from the Google Play Store for £199.99
My thanks go to Acer for the loan of the device.