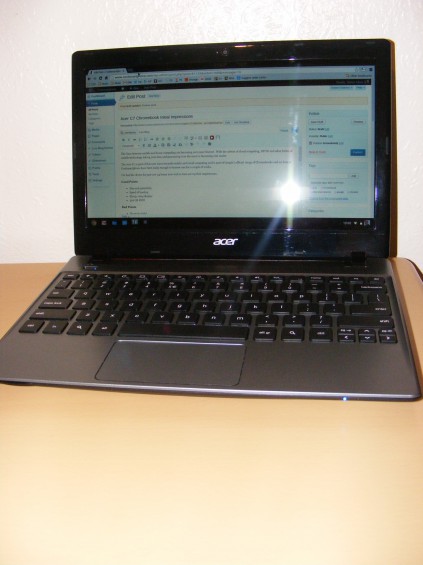 The lines between mobile and home computing are becoming ever more blurred.  With the advent of cloud computing, BYOD and other forms of mobile technology taking your data and processing it on the move is becoming ever easier.
The Acer C7 is part of this new wave towards mobile and cloud computing and is part of Google's official range of Chromebooks and we here at Coolsmartphone have been lucky enough to borrow one for a couple of weeks.
I've had the device for just over 24 hours now and so here are my first impressions.
Good Points
Size and portability

Speed of booting
Sharp, crisp display
320 GB HDD
Bad Points
Plasticky build

Display quite dim when on battery power
Viewing angles
Keyboard layout
Design
The Acer C7 is an all plastic gun metal grey affair with the only exception being the screen surround which is a glossy black.  At a price point of £200 it could hardly be classed as a premium product however build quality feels good if not exceptional.
One area that the C7 is rather good is in the connectivity options that it gives you.  Ethernet, VGA, HDMI, 3 x USB and an SD card slot are all included, in fact the only thing really missing is 3G.
The screen is a reflective TFT LCD offering, at 1366 x 768 it offers crisp sharp pictures however when not on charge the display appears a little dim and the brightness controls seem to have no affect.

The keyboard is a chicklet style with just enough movement in the keys to remain comfortable, the layout on the model that I have is in the American style and is therefore not actually representative of the actual characters that you will get when certain keys are pressed for example @ is on the " key and vice versa.  One other issue that I personally have is with the size of the Enter key.  Half of this key is taken up with the backslash key.  This means that this is often pressed instead of enter when touch-typing.
The touch-pad has no buttons and is of an average size.  Instead of a right and left button the touch-pad is multi touch and recognizes a two finger tap as right click and a single tap as a left click.  Scrolling is achieved by touching the pad with two fingers, keeping one still and moving the other up or down to achieve the scroll.  It takes a little getting used to but soon becomes second nature.
When compared to my 10″ laptop the Acer feels much much larger when in fact they are of a comparable size.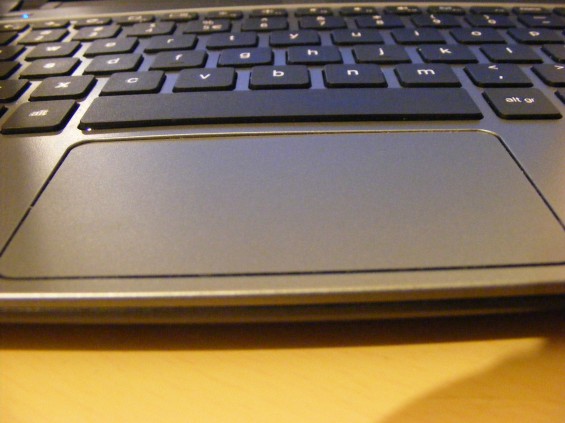 Specifications
Google Chrome OS
Processor – Intel 847 (1.1 GHz dual core)
11.6″ HD Acer Cine Crystal Display
2GB DDR3 RAM
320GB HDD
2 in 1 Optical Card reader
Wi-Fi 802.11 a/g/n
Acer Crystal Eye HD webcam
Software / Operating System
The Acer C7 is of course a Chromebook which means that it runs Google's Chrome OS.  This essentially has everything running in the Chrome browser with no major offline desktop functionality.  As per the Windows version of Chrome, you can install extensions and add-ons at will as well as add shortcuts to the Windows 7 style taskbar at the bottom of the desktop.  This does mean that there is nothing in the way of bundled software and this is in fact a godsend.  Not having to spend up to an hour un-installing the bloat ware usually bundled with a new device is rather refreshing.
With boot times of under 20 seconds and an almost instantaneous restart from standby time, the C7 is certainly no slouch when you want to get it going.
Any user will naturally need a Google account and upon first login all bookmarks and browser add ins etc are automatically synchronised (this does depend on you being a Chrome user in the first place!!)  This makes for an all round smooth experience and one that is very easy.
Overall my first impressions of the C7 are good.  I have slight reservations about the screen but only time will tell if this is an issue.
I will be using the Acer as my main computing device for a couple of weeks in order to see if it can be used as a replacement for my Windows laptop and will of course bring you a full review in the near future.
If you have any questions that you want me to answer or anything in particular that you would like me to check , please feel free to leave a comment below.