You may have used Ubuntu on the desktop, you may have considered flashing it to your device. Now it's in an all-new phone from ZTE too. This is another mobile OS jumping on the HTML5 bandwagon and could prove to be a serious competitor for the existing smartphone OS's. There was a lot of interest amongst attendees today and several demonstrations were being held without breaks.
We spoke to Lucas Adamski, Engineering Director for the Firefox OS. He oversees development of the open mobile ecosystem. He told us how the Firefox OS will power the first "Open Web Devices" and this cheap ZTE Open is priced extremely competitively.
HTML5 apps, as you may know from our Firefox OS story, are easy to create and run. There's a Firefox Marketplace where apps are connected to your "online identity" so you can use them on other devices and platforms.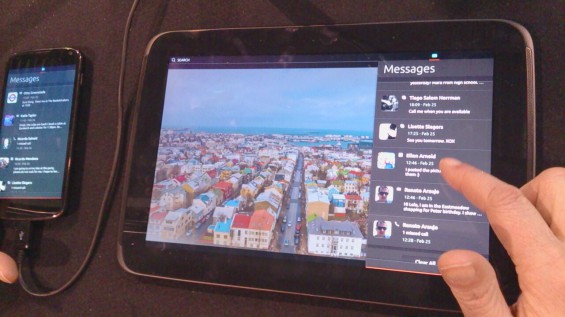 The OS itself has a navigation system which is a little different to the Android UI.There's no hard or soft keys and you simply slide out the left side of the screen to access your favourite apps (by the way Ubuntu, we love how you spell "favourite" correctly) ;), whilst sliding from the right edge takes you back to the last app you were using.
The OS is designed for multitasking, and the tablet form-factor seems to show this off best. Switch apps, mix things up and get your work done quicker.
Like Firefox OS, there's a central search system which lets you see data from email, phone contacts, Facebook and Twitter when you search for something. There's also a tighter integration of messaging and social media, with the ability to reply to messages as they come in, whether it be via Facebook, Twitter, text or email.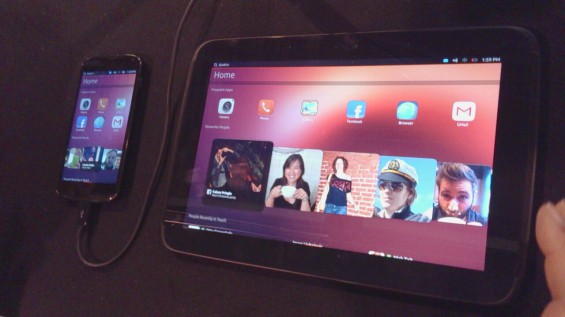 We got a great video showing off the OS below..