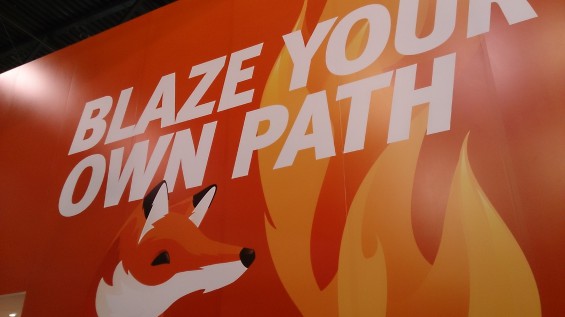 The Android OS is represented this year by just a few guys in Android outfits. They're running around and generally hugging random strangers. I always find that a little weird, because without the suits you'd be batting them away with a spade.
The OS itself is, of course, mentioned everywhere. Apps run on it and phones are powered by it. Google have now got to the stage where they don't need to be here. Apple haven't ever been to the event but it's not hurt their phone sales or success.
This year, there's some relative new-comers on the block. The guys from Mozilla only started working on the OS a year and a bit ago and now, here it is on the ZTE Open. The handset itself, as we mentioned earlier is fairly low-spec when compared to the majority of devices on show here. It has a 3.5″ HVGA 480×320 screen and a ARM Cortex-A5-based MSM7225A CPU running at 1GHz. There's a 3.2MP fixed focus camera, Wi-Fi, Bluetooth 2.1 and an FM radio.
Everything seemed to be running pretty well on the OS and I was impressed with how snappy it was. It's cheap too, and I mean really cheap.
Now, let's get some misconceptions out of the way. Firstly, the HTML apps can run even if you don't have a web connection. The developer has the choice as to whether to install the app locally, or they host it, or both. Some apps run locally and grab data on the fly. Nokia Maps was shown off to us.

Flash isn't supported, "we don't see any reason to", said the Mozilla staffer. There's no SDK either and apps don't take much storage – it's all HTML. All web technology.
An "app discovery engine" gets relevant results across all apps based on your search terms. Stick "Madonna" in and it'll show Wikipedia, YouTube and your music apps etc. Updates for the OS are provided over the air. Functional and security updates will be sent to the phone and the Mozilla guys insist that this won't be leaving you with an phone that doesn't get updated.
With the Android circus not present, these two new OS's were making some considerable waves here at Mobile World Congress. Although the Firefox OS here is on a low-end ZTE device and they have a "Firefox for Android" version, there's a lot of signs saying "Blaze your own path" and "Life is too short to live in someone else's walls". In my mind it's a clear signal. No-one is stopping them from shipping on higher-end devices and, in a few years time, they could very well be just as big.
Check out the video below for a full video of the OS and an explanation of how it all works. We shot this particular one from two different angles and you can scroll down for the pics.