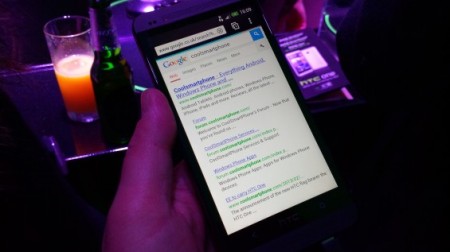 Here it is then, the HTC One. This huge event at the German Gymnasium in London wasn't just a phone launch or the confirmation that the leaked M7 was indeed the HTC One. This was showing what mobile companies must do now, because all phones are getting similar specs and similar shapes. To differentiate is becoming increasingly tricky but absolutely imperative.
If you want to play with one of these you just head to Phones 4U in Oxford Street, London. We entered a packed venue, with tech press and bloggers queued up outside, and quickly found the event full to capacity.
At first site the phone looks like any other, but the design up-close and cool feel is rather remarkable. At the top and bottom of the screen there's two speakers which are part of the new "HTC BoomSound" technology. Turn the phone on its side and you get a rather respectable sound output which isn't tinny or distorted. Even with the audio cranked up to max I can attest to this. The stereo sound really does sound good and it's emphasized with the usual HTC Beats tech.
The new HTC Sense interface looks smooth and instantly likeable, with "HTC BlinkFeed" providing an up-to-date glance at your latest happenings from across your various social networks in a chronological patchwork of tiles. Wait, did I just say tiles? Yes, the idea is similar to the Windows Phone Live Tiles, but this is done fluidly and much more beautifully, at least in my opinion. Imagine Flipboard on the homescreen and you're almost there. We've got a video showing these two features along with the new HTC Zoe system below.
HTC Zoe? Yes, and to make things a little "tricky" with the wife / girlfriend they've even started calling these clever camera captures "Zoe Moments". It works by snapping a photo, but you're not snapping a photo, you're snapping video, and it'll you can then choose the best image. Sure, I know, you've probably seen that before, right? Well, wrong – this can also mash up those "Zoe Moments" into a funky music-video to save your party / event / day out in a short film. It actually works rather well indeed.
Specs? You want specs? This thing has the kitchen sink and then some. It's running Android 4.1.2 (Jelly Bean) and has that newly refreshed HTC Sense 5. Powered by a 1.7GHz quad-core Qualcomm Snapdragon 600 CPU, it has a 4.7″ screen with full 1080p resolution (yes, 1080p) and an amazing 468ppi with a Gorilla Glass 2 screen. Add that to the 2GB RAM and either 32GB or 64GB of RAM (no microSD card slot though).
It has WiFi, Bluetooth 4.0, NFC and that "Ultrapixel" camera round the back. This in itself is weird. I say "weird" because the average Joe on the street might not understand why the camera is suddenly "4 megapixels". Surely more megapixels is better, right? Well, not necessarily. The HTC guy tried to explain it by comparing light to buckets of water but my eyes quickly glazed over, so selling this point to the public is going to be tough. Let's just say that low-light shots are going to appear better and shots overall will be sharper. There's image stabilization, HDR video recording and a f/2.0 lens. Basically, you won't need the flash so much because those shots of you and your mates down the pub will finally, definitely be brighter as the new camera tech allows loads and loads more light into the lens. There's also extra techy magic in the dual microphones, so you can record in fairly noisy environments without the resulting video sounding totally rubbish.
The build quality, which I touched on before, is spot on. You'll see terms like "zero gap premium build". Basically it means that the chasis is strong but cool and a delight to hold. The HTC boffins have dropped in lots of technology to ensure that the antenna is woven into the body, making this a "virtually all metal phone".
It'll be available in March and we'll have further details about where you can get it in further posts, however we're hearing that pretty much every network in the UK is picking this up.
Overall, I was pretty impressed actually. The phone is gorgeous, I loved the fact that someone has finally sorted the dog-awful sound quality of phone speakers and I appreciated the funky visualizer and the graphic effects. The camera performed extremely well and although the motion-blur was still present in shots I took, it was great to be able to have those "Zoe Moments" to flick around and find a shot that wasn't blurry.
HTC needed to up their game even more with this release, and I firmly believe they have. A single launch – "just" one handset. There's no range this time, only this rather epic device. Whether that'll translate into Samsung-beating sales I'm not totally sure – HTC have to make sure that this is marketed correctly so that people want this as much as people fondling it this afternoon.
Oh, and here's a question. How many of you are reading this thinking, "I'll wait to see what the Samsung Galaxy S4 is like"?