As well as the Padfone, Fonepad confusion Asus had the Transformer Aio PC sat in the corner, looking rather lonely.
Essentially, the device is an 18.4 inch tablet that has a rather nice looking dock, which also connects to a keyboard and mouse.
The clever part is that it runs Windows 8 and Android operating systems. The user is able to switch between them at the touch of a button, so you have full Windows when you need it, and Android when you're using it as a tablet. (It does seem odd that Android is included given that Windows 8's new Metro front end is optimised for such an experience.) The clear benefit, however is the vast array of apps offered by the Google Play Store.
Now, it has to be said that using an 18.4 inch tablet makes you look rather silly. As clearly demonstrated in the photo below, where I do, indeed look rather silly.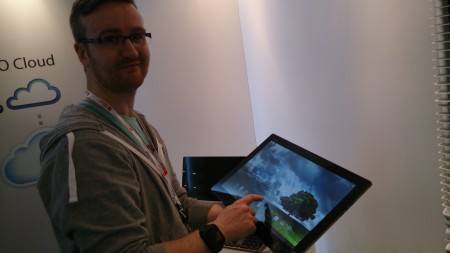 Could an 18.4 inch tablet be useful? I imaging in a stand, it would be useful to have essentially a portable PC, but then that market is fairly well catered for … by laptops.
Below are some pictures of the huuuge tablet, and some press shots