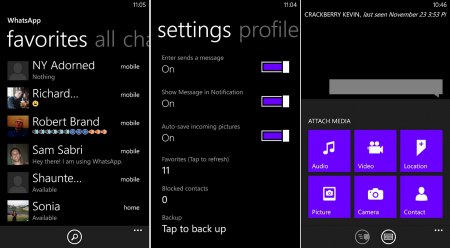 WhatsApp is one of the most popular messaging apps available. It's a great way to chat to friends and share images, audio and pictures completely free (as long as you're connected to wi-fi): therefore it's great to see such a major update to the Windows version of the app.
Here's some of the new changes you'll see with the update:
First of all the tile for the app has changed – it now blends with your chosen colour scheme and the green has gone.

You can now send messages by pressing enter instead of hitting the send symbol

There's now lock screen notifications so you'll never miss a message

 The UI layout has changed a little bit too – everything just looks cleaner and smoother

Mass messaging is supported better too
Everything is backed up on WhatsApp now also, so you won't lose any important messages
Best of all there's a new attachment screen for when you go to send an image or file – now choosing the type of attachment you want to send shows as a tile – you still can't send multiple attachements at once though.
The newer looking WhatsApp is great and hopefully this update might fix some of the power draining issues users report with WhatsApp too. You can download it for free from here.