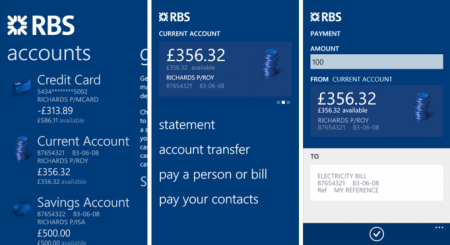 Earlier this week we told you about the release of the Natwest banking app for Windows Phone 8 and now their big brother RBS (Royal Bank of Scotland) have released an app too- great news!
It's a really good sign for Windows Phone owners to see big banks creating apps for the OS – it's actually quite surprising that they weren't there before.
Here's what you can expect from the RBS app:
View your transaction history  and keep track of your outgoings for accounts and search for historical transactions on your accounts.
Send money to RBS Mobile Banking customers that use the app simply by using their mobile number.
Check your balance and recent transactions for more than one account.
Get Cash from RBS, NatWest or Tesco cash machines without a debit card by having a pin sent to you.
Pay bills or people, although you have to set this up in online banking first.
Find your nearest cash machine or local branch with the directory.
Transfer funds between your accounts with ease.
Top up your pay as you go mobile phone and up to four others; this isn't available on 3 though.
You can download the RBS app for free here.