The Windows Phone store is growing day by day and is now far more advanced than what we saw on the older 7 operating system.
There still are a few key apps missing, but one of them can finally be crossed of that list because you can now download the Natwest app free of charge from the store.
You can either search for Natwest on your phone or download from here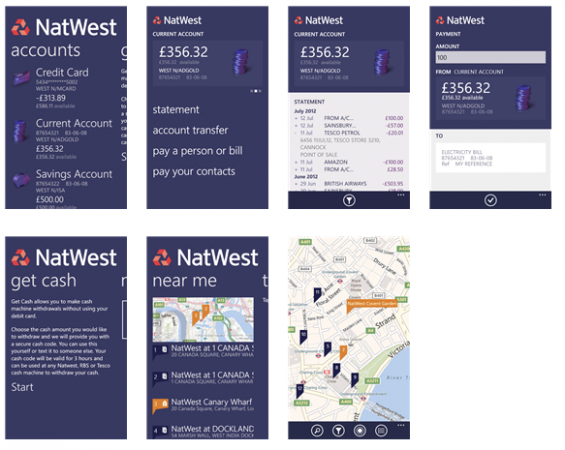 Hopefully we will see other major banks release their app for the WIndows Phone OS shortly.
The following information was taken from the description page on the store.
Introducing NatWest Mobile Banking for Windows Phone.

With NatWest Mobile Banking, managing your money on the move is even easier.

GREAT FEATURES

 View your transaction history for most of your accounts, search for historical transactions on your current accounts and savings accounts
 Get Cash from NatWest, RBS or Tesco cash machines without a debit card
 Send money to NatWest Mobile Banking customers that use this app – all you need is their mobile number
 Pay bills or people – just set up and make your first payment in Online Banking beforehand
 Transfer funds between your accounts
 Find your nearest cash machine or local branch
 Top up your pay as you go mobile phone and up to four others (service not available on the 3 network).

HOW TO REGISTER
You need to be a NatWest Online Banking customer to use the NatWest app.
Once you've downloaded the app, registering is simple. All you need to hand is your Online Banking customer number, debit card and a couple of personal details. Your details will be verified within 24 hours and we'll send you a text message when you're all set to go.

Not got a customer number? Get a reminder or sign up for Online Banking at natwest.com/online

If you're having trouble with your Windows Phone app please call the helpdesk on 08081 68 29 59. Calls may be recorded.

PLEASE NOTE
You need to have a NatWest personal account with debit card, be over 11 and have a mainland UK mobile number starting with 07 to use this service.

This service is currently not available for NatWest business banking.

This service will be available for NatWest customers in England and Wales (only).

Standard data charges may apply. Contact your network operator for details.

By downloading this application, you are accepting the terms and conditions which can be viewed at www.natwest.com/mobileterms. We recommend that you save or print a copy of the terms and conditions for your records.