The BlackBerry Z10 is the device of the moment. We have a couple flying around the offices of Coolsmartphone at the moment. Leigh posted his hands on video yesterday here and I'm going to post my initial impressions very soon.
If you can't wait to get your hands on one then you'll be glad to know they're now available on Three UK from £34 a month with £69 upfront cost.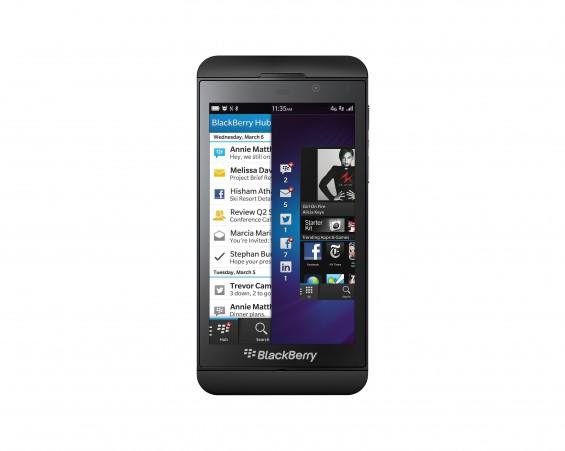 Here is the lengthy press release from Three UK.
BlackBerry® Z10 – available now on Three.

The BlackBerry® Z10 is available now online at www.three.co.uk and in all Three stores.

The BlackBerry Z10 is the first of a new generation of BlackBerry devices. The software has all the best features of a traditional BlackBerry, packed into a modern smartphone design with a large 4.2-inch full-touch display.

The user interface is designed to make things quick and easy. You can peek at your messages with just one swipe and choose to reply or just swipe back to return to your app. Type fast and accurately with the on-screen keyboard which learns and adapts to the way you type.

The BlackBerry Z10 also includes an innovative Time Shift camera mode which captures a sequence of shots with just one click. Keen photographers can then simply stitch the best parts of each shot together to make the ideal picture, even if someone blinks and with 16GB of internal memory you can store plenty of pictures.

Keeping in touch and sharing content with friends has been simplified as the new BBM™ features BBM Video, allowing people to talk face-to-face over Three's Ultrafast network.

Sylvia Chind, Head of Devices at Three said, "The BlackBerry Z10 is ideal for those looking for a smartphone that combines the best aspects of a traditional BlackBerry device with modern and innovative features. Along with our great range tariffs offering All You Can Eat data without the worry of incurring extra data charges, users on Three will benefit from the ultimate internet experience".

The BlackBerry Z10 is available for £34 a month with an upfront cost of £69 on the Ultimate Internet 500 plan and for £36 a month with an upfront cost of £69 on The One Plan – offering All-You-Can-Eat data and giving you the latest technology with no price premium.

Key features

– Peek at your messages from any app with just one swipe
– Effortless and fast typing with a keyboard that learns and adjusts to you
– Ultra brilliant meets Ultrafast – compatible with Three's Ultrafast network
– Take BBM™ to a new level with BBM Video and Screen Share
– Capture the perfect group shot with Time Shift camera mode
– Plan events easily, collecting your photos, emails, web links and messages together in one
place
– Up to 16GB internal memory.
– 8 megapixel camera.