I seem to have a got a name for myself somehow. I'm known across the t'interwebs for many things (sorry, I needed the money) but you may know me as "the guy who films videos in the car". I've not done one for a while, so it's time for a new one.
I've been lucky enough to borrow the BlackBerry Z10. It's a BlackBerry. Yes, I know – a BlackBerry. I've used Windows Phone, iPhones and Android phones, but I've not really touched a BlackBerry since the last QWERTY-style one was shoved into my hand by an ex-employer.
BlackBerry took a step back recently. I've seen Directors dumping perfectly good BlackBerry handsets and switching to devices like the iPad or iPhone. Why? Well, the reasons are many and varied. Some of those Directors / Managers and decision makers have seen others using the iPhone /iPad or Android phones and basically said, "I want one of those too". Meanwhile, the classic QWERTY BlackBerry devices have found their way into the pockets of teenagers and other "normal people". Gahh! The horror!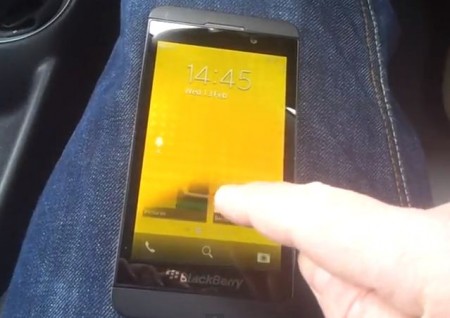 So, BlackBerry went back to the drawing board, kicked the "RIM" name in the bin and came back with this, the Z10. It has a 4.2″ display (1280×768), 8 megapixel rear camera, 2 megapixel front camera and is 4G capable, so the one below is packing some EE 4G connectivity. If I was a writer for the Daily Mail I'd point out that this is a "Direct copy of the iPhone", but back here on planet Earth I'll just say that, from a distance, if you squint, it looks a bit like an iPhone.
This Z10 (there's the Q10 too which has a physical QWERTY keyboard) has an on-screen keyboard which is … very good actually. There's 2GB RAM, 16GB Flash and a microSD card slot. It's all powered by a dual-core 1.5GHz CPU and has a 1800mAh battery which gives up to 13 days of standby time. Hmm.. good again.
That rear camera, by the way, has a 5 element F2.2 lens and there's a dedicated image signal processor which makes resulting shots look very good indeed. The video mode has a stabilization feature and you can do trick things like time-shifting shots for adjusting bits of your pictures.
So far, I'm very impressed with the Z10. BlackBerry announced it, made it available the next day and it's great to use.