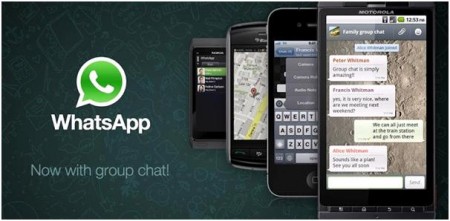 Do you use WhatsApp? Do you like using the latest and greatest version of the app, regardless of stability? Yes well you're in for a fun morning.
WhatsApp the popular cross platform instant messaging app now has a beta version available to download from their website. Offering some new features for those willing to try it out. They also seem to be offering a trial period for beta testers as well, avoiding the normal annual fee.
Please download the latest version of WhatsApp Messenger and enjoy our service
free for 1 year! During, or after free trial period you can purchase service for
$0.99 USD/year.
If you are wondering what on earth WhatsApp is then read this from the developers
How it works

WhatsApp Messenger is a cross-platform mobile messaging app which allows you to exchange messages without having to pay for SMS. WhatsApp Messenger is available for iPhone, BlackBerry, Android, Windows Phone and Nokia and yes, those phones can all message each other! Because WhatsApp Messenger uses the same internet data plan that you use for email and web browsing, there is no cost to message and stay in touch with your friends.

In addition to basic messaging WhatsApp users can create groups, send each other unlimited images, video and audio media messages.
Download the Android beta here at the WhatsApp website.