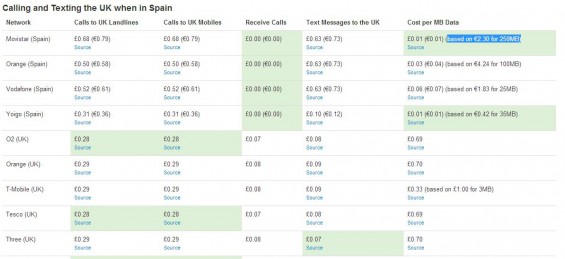 So, you're going abroad and your normal knee-jerk reaction is to not use your phone. However, if you have to use the phone then you might look for a cheap roaming deal. A few UK operators are adding these add-on plans now, which is a start.
My usual fix is to go and get a local SIM from the country I'm visiting and then slap it into an unlocked mobile. I tried this in Cyprus recently but somehow seemed to be topping it up pretty often. So is a local SIM the cheapest option?
The answer, and this confuses me a bit, is "sometimes yes, sometimes no, and it depends whether it's calls, texts or data that you intend to use the most".
I stumbled across this site whilst looking for a mobile solution while we're out in Spain for Mobile World Congress and there's a few surprises. For example, if you're in Spain and want to call a mobile handset back in the UK, an O2, Tesco, Virgin or Vodafone SIM from the UK is actually your best bet. Texting a UK mobile from Spain is done most cheaply on a Three UK SIM. As for data, things are a little more complex. Three do a Euro Internet Pass which gives you unlimited internet for £5 per day in Europe, but if you get a Movistar SIM then you can pay € 1.90 for get unlimited internet, with the first 250MB at "maximum speed".
The Mobile Unlocked site is a good starting point and shows the top 10 most popular destinations for us Brits, but we'd recommend double-checking with your operator to see if you can get a good package before you head off.
Link – Mobile Unlocked