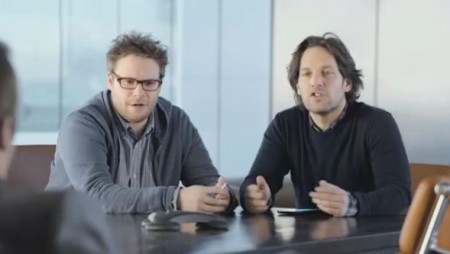 Hey, there's one thing we all agree on, right? Yeah. Trademarks. Patents. Legal battles. It's all getting tiresome. Samsung, despite being involved in several legal battles with Apple, have decided to poke fun at this situation in an advert shown last night. The ad, which appeared during that game where people dress up in lots of padding, pick the ball up, run a bit, then stop, features Seth Rogen (Anchorman / 40-Year-Old Virgin / Knocked Up) and Paul Rudd (Anchorman / Bridesmaids).
Samsung love poking fun at the iPhone, and we've seen many ads showing Apple fans queuing for the latest version of the handset.
Your thoughts on this?
http://www.youtube.com/watch?feature=player_embedded&v=pzfAdmAtYIY