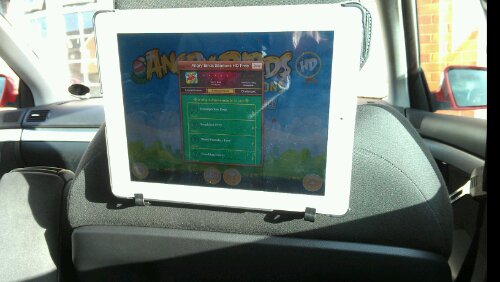 Picture the scene, you're on a long car journey with one or two kids they're sitting in the back, asking "Are we there yet?"
You're not. You're no-where near. You've not even got off your drive yet and they're already bored or fighting each other. How do you fix that? Well, there's a number of solutions. You could buy yourself a DVD player or, if you've invested in an iPad, you could let them use that. The trouble is that iPads are expensive and it only takes one sharp turn and …. CRUNCH…..your precious iPad now has one broken screen.
The Snugg headrest holder is a simple but elegant solution to this and easily fixes your iPad to the front seats. First you'll need a case for your iPad. We've got a couple on test so I tried one. Y'know the sort – we're using covers that flap over the iPad like a book cover. Here your cover slots into the second strap that sits on the top.
The Snugg is a very well-made accessory with big, strong stitching and good quality materials. To fit it to your headrest is simply a matter of putting the belt around the two metal headrest poles and fixing with the velcro section.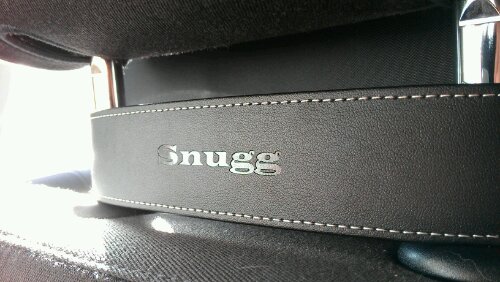 As you can see here, this isn't cheap-looking or flimsy. This is proper, tough and solid.  In this wider shot you can see how it pieces together..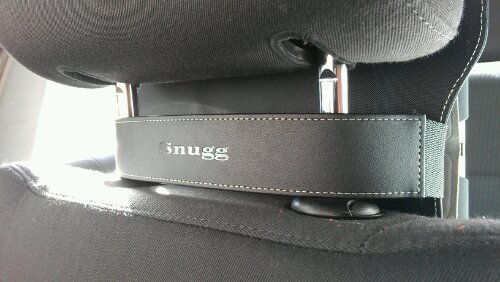 Here's how the holder looks from the back seat. You'll need an iPad and a cover. Your cover flaps back and then you just need to insert it into the top strap. Again, this is a material strap with the leather cover stitched over. It's strong and sturdy again.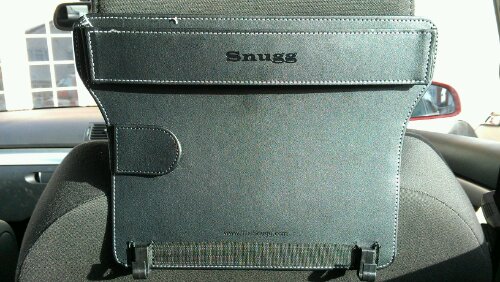 Down there at the bottom are a couple of hooks which you'll need to slot the bottom of your iPad into. In practice this proved a little difficult if you have a fairly thick cover. The cover itself and the iPad slot in here and it seems that the hooks are a little too narrow, but after a bit of struggling you can get it in.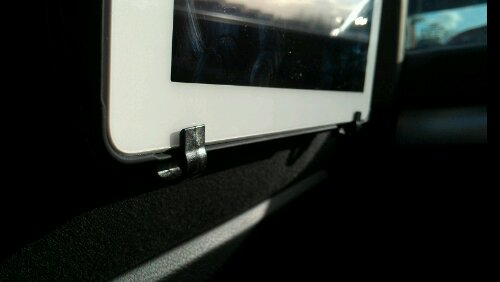 I've taken some more pretty shots for you to enjoy below but, if we're honest, it's probably easier to show you the Snugg iPad Headrest holder in a video. Oh, and right now it's down to £19.99 on TheSnugg website. I was very impressed with the quality of this and, even if you can't get your particular cover to slot into those two hooks at the bottom, it'll let your kids watch videos on the move. However, if you can't get it into those clips the iPad will swing forwards and backwards, making it tricky to play games and use apps (if that's what you choose to do).
All in all though, this is a proper quality product.
Buy one from TheSnugg.com