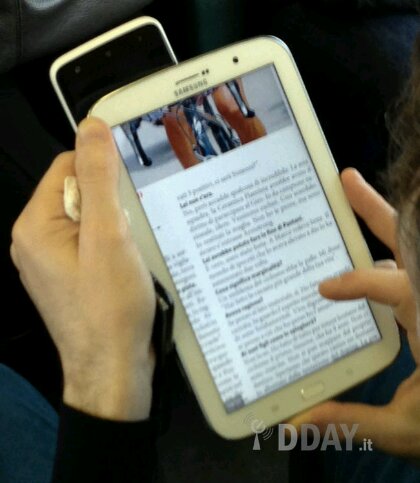 We're expecting Samsung to reveal an 8″ version of the Galaxy Note this year at MWC (last year, you may remember, it was all about the 10.1″ model) and now there's some apparent photos of the device over on dday.it. The snaps seem to have been taken accidentally-on-pupose and show a design that resembles the other Galaxy devices currently on the market.
The camera on the back is raised a little and it looks like the stylus is stored on the bottom right, just like the other Note devices. Specs are still in the rumour stage, but are said to include a qud-core CPU, 1280×800 pixel screen and a 5-megapixel shooter, although we can't see a flash. That front-facing camera we're seeing here is a 1.3 megapixel and there's apparently 2GB of memory on board.
Get more of the pictures below. We'll be reporting live in Barcelona at Mobile World Congress, so if this does indeed appear you'll see more here.
Picture source – dday.it