Mobile security specialists Lookout have today announced some new features for their award winning mobile security suite.
The new features bring additional functionality to an already feature packed app.
First on the list is a feature added to the free version, Lockcam.
Lockcam offers the user the facility to take a picture of the current user with the front facing camera after 3 failed unlock attempts.  This picture is then emailed to your registered account along with the location of your device.
This picture can then be taken to the police if your handset has been stolen or used as evidence to back up any insurance claim.  Lookout have taken pains to point out that they do not recommend approaching the potential culprit personally but that this should be left to the relevant law enforcement authorities.
Shockingly according to a recent Lookout survey a huge two thirds of users in the UK do not have either a lock code on their handset.  This could be classed as the first line of defence and it can not be stressed enough how important this is!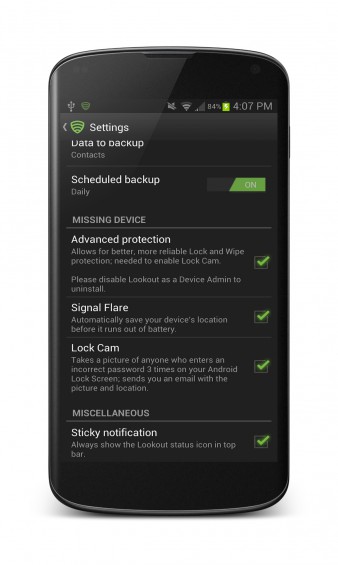 The second new feature is available to premium subscribers and is Lockscreen Message.
Lockscreen message gives you the facility to place a custom message on your lockscreen.  This can be used to put contact details if you have misplaced your device or it has been stolen.  There is a character limit of 300.  The message is programmed directly from the my account page within the Lookout.com website.
I spent some time talking to Anbu Anbalagapandian, Senior Software Engineer at Lookout who not only talked me through the changes but also managed to convey the sheer amount of passion at Lookout for preventing malware and helping to recover lost or stolen devices.
The number of mobile phone crime on the streets of London alone has reached epic proportions with some 158 iPhones being stolen every single day and we here at Coolsmartphone would certainly recommend that you take all possible steps to secure your device which would also include downloading a mobile security suite such as Lookout.
Download Lookout free from