Say that something is "foobared" (or rather, "Fubared") and, well, it's broken. However, if you take the foobar definition then it's more likely to be used as a variable in a script. Now, deep in there somewhere was a fantastic introduction to this story but, sadly, I've lost it.
So without further ado, let me introduce you to a new service called FooTalk. Graeme Hutchinson, former sales and marketing chief and founding management team member of Virgin Mobile, is behind this and it'll let you make free calls to other FooTalk users over mobile data (a long as your network doesn't block it) or WiFi. The app will integrate with your smartphone and shows who else is using FooTalk. Not only that, but it'll offer up savings on calls to mobiles and landlines. Call rates are displayed within the app so you can choose whether you'd like to go ahead with the call. It's easy to setup too, and could replace your normal on-phone dialer easily.
An iPhone and Android version is available for free. The company are keen to point out that they're actually cheaper than Skype. Just grab the app, load up some credit and start making calls over your data connection for a lot less than you'd usually pay. This is especially useful if you're calling to or from abroad.
Read on for more details..
Link – FooTalk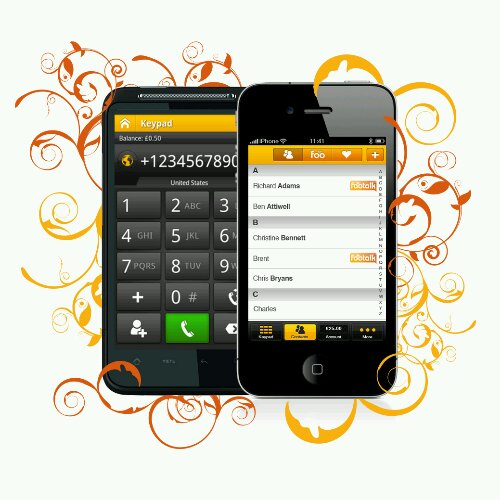 New calling app FooTalk launches today.

– Perfect for making calls to other users across the globe for free.
– Calls to landlines and mobiles are cheaper than Skype and other services.

FooTalk is a new app for iOS and Android that significantly reduces the cost of making calls for smartphone and tablet users. It allows customers to make free calls to friends and family who also have the FooTalk app, anywhere in the world via Wi-Fi or 3G and 4G mobile data services.

Graeme Hutchinson, former sales and marketing chief, founding management team member of Virgin Mobile and co-founder of FooTalk said: "We know that people are travelling the world more than ever and international borders are no longer a barrier to staying in touch. However soaring call rates, inaccessibility and the complexity of alternative calling services are.

FooTalk also allows users to call any number in the world at extremely low rates (significantly lower than other alternative calling services like Skype). Whether calling abroad, avoiding expensive roaming charges whilst travelling, or simply calling friends nearby, FooTalk offers exceptional value compared to other services.

In addition to the significant cost saving benefits, FooTalk's patent-pending Discovery service is designed to ensure a more reliable connection than competitor products. This combination delivers a customer experience that gives them the most complete alternative to their network operator in one, easy-to-use app.