These days official accessories always tend to crop up during the product launch or shortly after. When I say crop up I mean they appear in some promo material and then NEVER appear in the public domain. Take the fabled wireless charging pad for the Samsung Galaxy SIII which they flaunted last year at the huge press event in London, that wireless charging pad is STILL not available.
Well I thought it would be a similar situation for the Nexus 7 Audio dock which we saw in some leaked material ages back. Well it seems that Asus UK have added it to their website today and you should soon be able to order one.
Update – These docks are now available to order with a 14 day wait. So sort of in stock!
The price on the website is £24.99 which has about £6 postage on top.
The dock has pogo pin connection and round the back it has a Micro USB socket and the 3.5mm Audio out socket. Personally I am quite looking forward to getting one of these as it will work nicely in my kitchen with some separate speakers.
Here is the product image from the Asus UK Shop, pretty uninspiring stuff!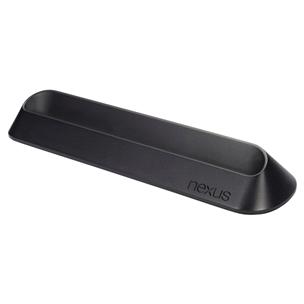 Source – Asus UK Shop
Via – Android Central