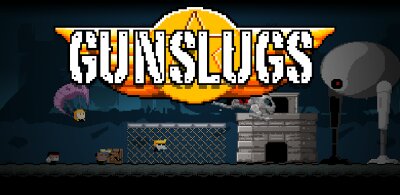 Gunslugs is brought to you by the team behind the popular 8 bit retro games Meganoid and Meganoid 2.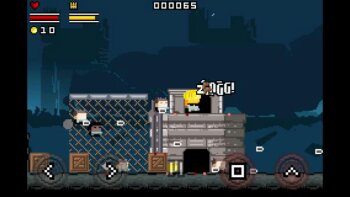 So what is it all about? Well it is a run along jumping over obstacles, shooting stuff, collecting stuff, great fun kind of thing. Here is the game description from the Play Store:
Gunslugs is the most chaotic, fun, arcade action game you'll find on any platform! Non-stop action from the guys behind Meganoid, Meganoid 2 and Stardash !
– We grabbed a bunch of expendable action hero's from the 80s and we made them team up as the Gunslugs to fight the war against the always evil Black Duck Army. Can you save the planet? maybe even the universe?

FEATURES
* Random level generation – no 2 game sessions will be the same!
* Unlockable characters
* Thumping sound track
* Fun variation of weapons
* Tank driving!
* Jetpack flying!
* Secret levels
* Objectives/achievements
* Destruction
* Chaos
* Rain, snow, and big bad hell worms
* Wizards, princesses, geeks, voodoo priests and many more surprises… !
– Two player co-op mode is supported by use of the BT controllers, Wiimotes, OUYA controllers and more, check http://orangepixel.net/gunslugs for more info
They have made this video showing you some of the levels and gameplay.
The developers have included support for a range of gamepads. So I'm looking forward to trying this on my Archos Gamepad. Especially as there is only a few onscreen controls to use. There is a free version for Android if you want to give this a try. Just head over to the link below.
Play Store Link – Gunslugs free – Gunslugs
iOS App Store Link – Gunslugs