Back in the early days of the 3G dongle, I bought a USB device from the 3 store.  It came with 1Gb data and a few text messages all for £49 and £15 per month.  To be honest it was terrible.  Connectivity was poor and it the signal was awful!  Thankfully things have improved dramatically since those early days, we now have 4G networks, DC-HSPA and consistent signal which all adds up to much better services.
Step up the Beemo 4G USB Modem.
Kindly supplied to us by Expansys, the 4G dongle is supplied complete with an EE 4G data sim which brings 5Gb data per month on a £15.99 p/m 30 day contract.
The dongle itself is all white with the Beemo Logo printed acoss the side and an inbuilt LED.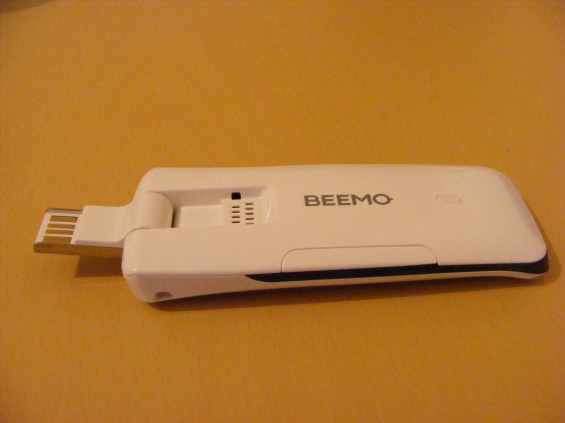 As you can see from the picture above there is a slot for the Sim card located just next to the Beemo logo.
Getting the Beemo to work with Windows 7 was very simple, it was a case of plugging the device in and running the supplied software, overall the whole process took no longer than 5 minutes on a reasonably spec'd laptop.
Once the relevant drivers are installed it is simply a case of firing up the uCan connect software and connecting to the 4G network.
It really couldn't be simpler.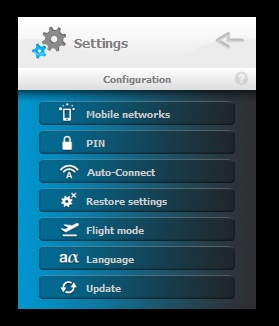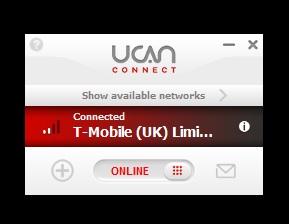 The Ucan Connect software also comes with some nifty tools such as diagnostics, a usage monitor, a connections manager and a contacts manager.  You are also given a choice of a red or blue theme for the software.
So, the connectivity software is comprehensive and simple to use, what about the actual usage?
I used the dongle across different times of the day and in various locations.  Never once did I have a problem with either connecting or signal.
I also completed several internet speedtest at different times, the results of some of them can be seen below.
As can clearly be seen consistent speeds were achieved that varied between 7Mbps and 14Mbps which is also broadly in line with the speeds that EE are quoting as their average expected network speeds.
Of course, speed tests aren't representative of everyday internet use, what I can say however is that in real world use web pages loaded at a more than acceptable rate, with images and other media presenting no problems.  In fact, with the speeds and consistency it was actually impossible to tell that I was not connected to my home wifi network!
When purchased from Expansys you get a free EE 4G Data SIM with any cellular dongle/tablet, where the first month is free is you activate by 28th February 2013 and the ongoing cost of £15.99 per month on a rolling monthly contract which is cancellable at anytime.
In summary, the networks and technology have come a long way since those first days of the early dongles, speeds are consistent and connectivity is much much better, the Beemo is proof of that.  If you are  in need of internet on the move or even looking for a replacement to your home broadband connection and live in a 4G enabled area then this is certainly a route to consider.
The Beemo USB Modem is available from Expansys for £139.99 with free shipping.
The technical specs of the dongle are as follows:
Ultrafast 4G LTE (100 Mbps internet access)
Quad-band 4G LTE (800/900/1800/2600 MHz)
Fastest 3G (42 Mbps internet access)
Dual-band 3G (900/2100 MHz)
Easy set-up & use with uCAN Connect

Specifications:

4G (LTE)
Quad-band (800/900/1800/2600 MHz)
Download: 100 Mbps (Category 3)
Upload: 50 Mbps (Category 3)
2 × 2 MIMO antenna
3G (DC-HSPA+)
Dual-band (900/2100 MHz)
Advanced receiver with equalizer
HSDPA: 42 Mbps (Category 24)
HSUPA: 5.76 Mbps (Category 6)
UE Power Class 3
2G E-GPRS
850/900/1800/1900 MHz
GSM Power Class 4 (2 W) for 850/900 bands
GPRS/E-GPRS Multislot Class 12

Software:

uCAN Connect, Plug & Play

Hardware specifications

External Antenna (MIMO) Connector
USB hinge connector
Multi-colour status LEDs
SIM card interface compliant with 3GPP 31.101 and 31.102 supporting 1.8 V and 3 V UICCs
USB 2.0 Hi-Speed (1.1 compatible)
90,5 × 35,4 × 11,7 mm, 35g
OS:Windows XP, Vista, Windows 7,OS (10.5.8 or later)
Many thanks go to Expansys for the loan of the Beemo USB 4G Modem.