We've seen too many headlines mentioning cracked, hacked or infected apps appearing in Google Play. Sadly we're adding this one to the list as Google appear to be reacting too slowly to the continuing problem.
In this case we've had an email from the guys at Root Uninstaller. They're behind apps like Root Uninstaller, Smart RAM Booster and Smart RAM Booster Pro for £1.69. Here it is…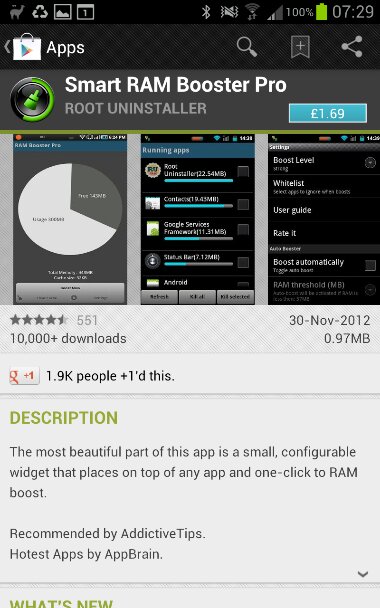 Recently a customer contacted them after spotting another app called "RAM Boost Pro" (which we won't link to) selling for more money in the Google Play store. It looked similar….a little too similar. In fact, it's the very same app, albeit with a new package name and logo….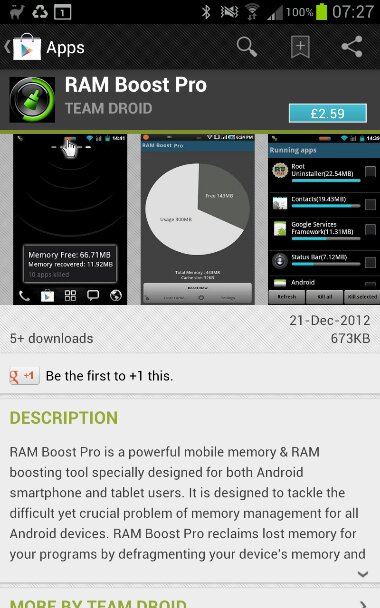 The guys from Root Uninstaller have posted a blog post about the incident. We've tweaked the English a little…
The app named "RAM Boost Pro" from publisher "Team Droid" is apparently identical to Smart RAM Booster Pro. We've discovered that it is a hacked version of our Smart RAM Booster Pro. The publisher (has) just changed the package name (which is used as an identifier on Google Play as well as Android OS's package manager). They (haven't) changed icons (or other) graphical assets. They've set the price higher too.
At the time of writing the copied / hacked app is still showing on Google Play. It's just another example of how easy it is to get apps onto the store – real or not. Our advice? Avoid anything by "Team Droid".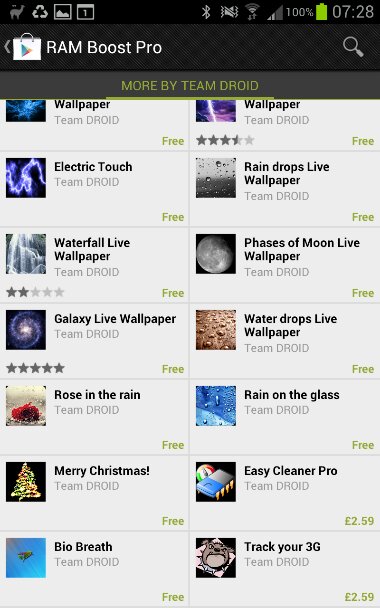 Link – Root Uninstaller Blog Post