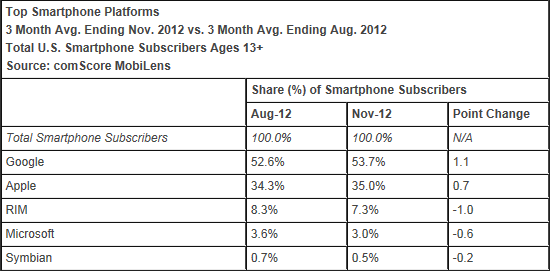 Based on a survey of 30,000 mobile subscribers in the USA, comScore figures are out for the three month period ending November 2012. The study reveals Samsung at the top of the tree with 26.9% of US mobile subscribers and Apple second with 18.5%. LG are in third place with 17.5% and Motorola are on a 10.4% share. HTC are sitting way down on 5.9%.
When it comes to smartphone platforms, Microsoft were obviously hoping that their fortunes would change, especially following the launch of the Nokia Lumia 920 and Windows Phone 8. Unfortunately, despite positive reviews, Microsoft have seen their share of smartphone subscribers slip down further. In August comScore showed Microsoft holding a 3.6% share of smartphone customers, but that's down to 3% in November. Meanwhile Google have seen their share rise to 53.7% and Apple have seen theirs go up to 35%. RIM have slipped one percentage point to 7.3% but this is still more than double the Microsoft share.
It's becoming painfully clear that Android-powered Samsung devices and the iOS-powered iPhone are the big hitters, with everyone else becoming a casualty.
Link – comScore November Results