Gaming on Windows RT has huge potential over the next year or so. The NVIDIA TegraZone has previously been an Android app that allowed people who owned Tegra based devices to install Tegra specific games and get news and previews of upcoming games.
Now Windows RT users with Tegra devices can install the TegraZone. At the moment in the UK this is only really the Microsoft Surface and the Asus VivoTab RT.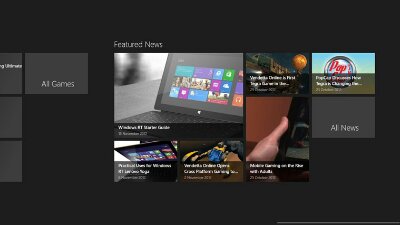 What I see this as representing is a sign to games developers that NVIDIA are serious about supporting the Windows RT platform.
NVIDIA have put together a few words summing up their feelings
TegraZone continues to be the ultimate gaming destination for mobile devices, pointing Android gamers to the hottest Tegra-optimized titles along with gaming news and reviews.
And with NVIDIA Tegra-powered Windows RT tablets and notebooks now available, Windows RT gamers can now look to our TegraZone app as the one-stop shop for all their mobile gaming needs. TegraZone for Windows RT features the new Windows 8 interface and is now available to download for free on all Tegra-powered Windows RT tablets and notebooks via the Windows Store.
TegraZone for Windows RT launches with a number of games already available in the Windows Store including: Judge Dredd vs Zombies, Pinball FX 2, Reckless Racing Ultimate, Riptide GP, Soulcraft, Space Ark, Sprinkle and Vendetta Online.
These Tegra-optimized titles offer special features not found in the standard versions, including HD characters and environments; realistic physics effects such as water, smoke and cloth; as well as dynamic lighting and particle effects.
NVIDIA offers one of the largest developer relations teams in the world – a dedicated support team of over 100 employees to help Windows RT and Android developers create games that take advantage of the ultra-efficient power of the quad-core Tegra 3 processor.
This unmatched developer support is an NVIDIA tradition carried over from our GeForce team. Through app support, tools delivery and extensive QA, the net result is console-quality experiences for gamers on-the-go.
With over 6 million downloads for Android devices, TegraZone is primed to make a splash on Windows RT tablets. Be sure to download it from the Windows Store.
So if you are lucky enough to have a Tegra based Windows RT device then head over to the link below and get it installed.
Windows 8 Store Link – NVIDIA TegraZone