When I say yellow I mean shocking neon yellow. HTC call it "Limelight Yellow" and originally it was the phone I wanted. Then there was a slight delay and I just had to get a WP8 device. Now I have the blue (purple) model instead.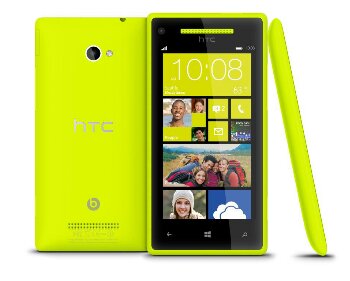 But if you have been patiently waiting for the yellow to arrive then your wait is over. Expansys got some stock of the yellow HTC 8Xs yesterday. They currently cost £399.99 Including delivery.
Here are some of the features you'll "love" :
The Windows Phone 8X features the new Windows Phone 8 operating system and boast iconic design, studio-quality sound with Beats Audio™ and incredible camera capabilities.

The Windows Phone 8X by HTC features a beautiful, 4.3″ HD-resolution super LCD 2 screen protected from everyday bumps and scrapes by lightweight Gorilla® Glass 2, while optical lamination reduces reflections and glare, ensuring you see every detail.

HTC has introduced a 2.1mp, f/2.0 aperture, 88° ultra-wide angle front-facing camera that allows up to four people and more to be captured at once.
It also supports 1080p video capture. The rear camera sports an 8mp CMOS sensor with backside-illumination (BSI) for improved low-light performance, along with an f/2.0 aperture, 28mm lens and a dedicated imaging chip. A physical shutter button makes it quick and easy to capture spontaneous action, even if the phone is locked.

Exclusively available on HTC smartphones, Beats Audio provides authentic, studio-quality sound that delivers the spirit of the original recording. The Windows Phone 8X by HTC featuring Beats Audio also offers a unique audio amplifier powering the 3.5mm audio jack and the speaker, boosting the audio signal for even better sound no matter if you're listening to music, playing a game or watching a video.
Spec wise the 8X is up there with the top end Windows Phone handsets. I have one and the Beats by Dre sounds incredible, the image chip makes for some great pictures, the screen is really really clear and colourful and to top it all off the feel in the hand of the 8X is really nice.
Head over to Expansys here to get your order in.