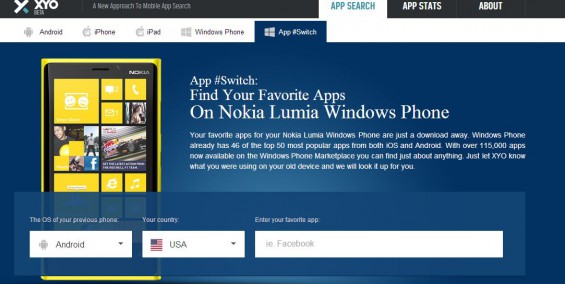 XYO.net has created a page to help Windows Phone owners switching from iOS or Android. To start you simply select the OS you used to use, then you type in the app name and it'll find a Windows Phone alternative. We started off by entering Astro File Manager – an app I use on Android. The site dished up this list of options, including SkyManager for £1.49.
Things sometimes got a little vague, especially when there's no direct replacement. For example, there's no Sky+ app, so the site offered up some TV Guide applications instead. "Where's My Water?" dished up some random games and … well, don't even try looking for YouTube, Dropbox or Flickr.
However, I must say that a lot of the major apps now seem to have filtered themselves onto Windows Phone. I shouldn't perhaps poke fun at the app selection because the site states that…
Windows Phone already has 46 of the top 50 most popular apps from both iOS and Android. With over 115,000 apps now available on the Windows Phone Marketplace you can find just about anything.
So, if you've just got a Windows Phone, things aren't as bad as they used to be apps-wise. Try it out – Xyo.net