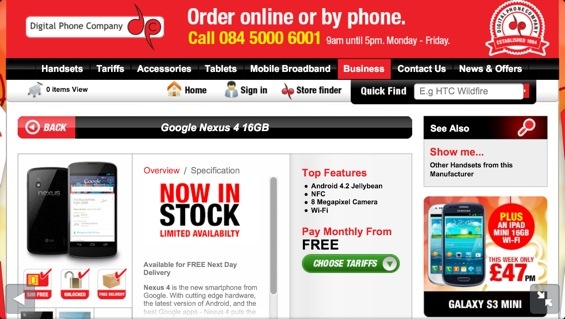 Looking for a Nexus 4? Whilst generally browsing around and I've been checking different websites to see what's available. I think I've found a bargain.
The guys over at Digital Phone Company sell Vodafone contracts and they have discounted the Nexus 4. They're showing the 16GB variant as limited but in stock (at time of writing this).
The cheapest deal for the 16GB device is £36 a month with £49.99 upfront and only a 12 month commitment. This gives you 300 mins 3000 texts and 500MB of data. An excellent deal for a low user.
For those that use their phone a lot, you can get it on the Red tariff. This is a £37 a month with a 24 month commitment and no up front cost. It gives you unlimited calls and texts with 1GB data allowance.
Remember that on either of these deals you get the Data Test Drive, a 3 month unlimited trial of Vodafone's data services.
Fancy getting one? Head on over to Digital Phone Company.
Link – Digital Phone Company