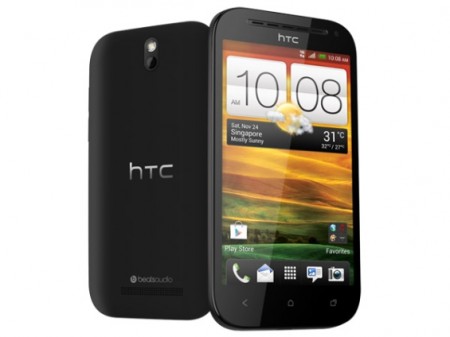 In a rather confusing twist, HTC have today lifted the lid on a brand new 4G LTE enabled Android handset called the One SV.
The name appears to be a (con)fusion of the HTC One, the One S and the One V while the hardware is an Android 4.0 Ice Cream Sandwich powered handset with front and rear cameras and Beats Audio onboard.
With a 1.2Ghz Snapdragon S4 dual core processor at its heart and with the Sense 4.0 skin, the One SV also features NFC and a MicroSD card slot offering storage capabilities of up to 32gb.
This combined with the Dropbox and Skydrive integration means that you should never run out of storage.
The rear camera is a 5mp offering whilst the front is 1.6mp.  The rear camera allows 1080p HD video recording.
The handset will come in two colours, Pyrenees blue and Glacier white.
HTC say that the One SV will be available on EE's 4G network with availability and pricing to be released in the coming weeks.
There is no fixed availability date or prices for other networks but we will of course keep you updated as soon as further information is released.
The full press release is below:
HTC EXTENDS ACCLAIMED ONE SERIES WITH HTC ONE SV

Super-fast LTE connectivity boosts the amazing camera and authentic sound of the award-winning One series

 

LONDON — 11TH DECEMBER, 2012 — HTC, a global leader in mobile innovation and design, today unveiled the latest model in its award-winning One series, the HTC One SV. This new model combines the superfast speed of 4G LTE, an amazing camera and studio-quality sound with HTC's stunning signature design. Running HTC Sense™ 4 on Android™ ICS, it is designed for those who want their smartphone to keep pace with their hectic lifestyle.   "The HTC One SV heralds the next generation of smartphone performance and lightning fast mobile internet," said Peter Chou, CEO of HTC Corporation. "We're delighted to help fuel the spread of 4G LTE networks worldwide with models that enable our customers to enjoy web browsing, movie streaming and Internet radio more quickly and more smoothly than ever before."   Dependable, superfast performance Featuring a 1.2 GHz Qualcomm Snapdragon S4 dual core processor, and taking full advantage of the latest mobile network technology, the HTC One SV offers exceptional performance, enabling high-quality video streaming, gaming and seamless multitasking.   Never run out of space for documents, movies, pictures and apps with Dropbox and SkyDrive integration, which, supported by HTC One SV's Micro SD card slot, expands the onboard memory by up to 32GB per card. Thanks to the latest NFC technology and Android Beam, you can also share your content with a simple tap of the phone to another NFC-enabled device.                                                                                                                          Amazing camera, authentic sound The HTC One SV offers the amazing camera synonymous with the acclaimed One series. Advanced functions, including one-press Continuous Shooting and VideoPic combined with advanced low-light performance for beautiful shots in challenging lighting conditions. The HTC One SV's 5 megapixel, f/2.0 Back Side Illuminated main camera with Panorama and 1080p HD Video Recording is complemented perfectly by a 1.6 megapixel front facing camera, which also features backside illumination, and an f/2.2 lens. Whether at sunset or in candlelight, the HTC One SV's front camera promises a self-portrait to treasure.   Exclusively available on HTC smartphones, Beats Audio™ transforms the listening experience of the HTC One SV, offering studio-quality, authentic sound across all music, gameplay and video playback. New HTC Sync Manager also makes syncing and managing your music collection even easier, ensuring your entire library is as mobile as you are.   Signature design True to HTC's heritage, the HTC One SV, with its 4.3 inch super LCD-2 touch screen, sports an elegant design in a range of exciting colours: Pyrenees blue and Glacier white. Its polycarbonate body is solid yet soft to the touch and is set off by matching silver or metallic rim belts, and colour-co-ordinated mesh for a premium finish.   Availability The HTC One SV will be available in the UK via selected operator, retail and distribution partners in the coming weeks.   Launch partnership with EE HTC is delighted to announce that EE will be a partner for the HTC One SV. With 4G LTE capability, the HTC One SV represents a powerful option for customers to take advantage of EE's mobile network. The combination of the HTC One SV's outstanding performance and EE's superfast 4G network make for an ideal partnership. Details on the HTC One SV from EE, including availability and pricing will be announced in due course.   About HTC Founded in 1997, HTC Corp. (HTC) is the creator of many award-winning mobile devices and industry firsts. By putting people at the center of everything it does, HTC pushes the boundaries of design and technology to create innovative and personal experiences for consumers around the globe. HTC's portfolio includes smartphones and tablets powered by HTC Sense®, a multilayered graphical user interface that vastly improves user experience. HTC is listed on the Taiwan Stock Exchange (TWSE: 2498). For more information, please visit www.htc.com.