Storage Options are a UK based electronics firm who have been making tablets for a few years now. Today they have announced a new dual core 7″ tablet. The Scroll Evoke is what their calling this one.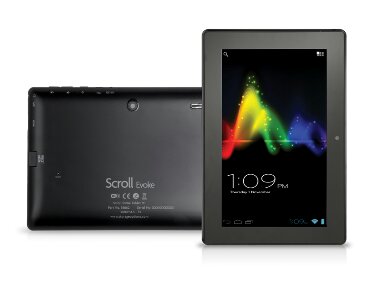 Spec wise it seems pretty decent. Although historically Storage Options have opted not to include the Google Play Store, leaving users to manage apps via third party app stores.
– Dual Core Cortex A9 1.6GHz processor
– Mali-T604 quad core graphics processor
– 8GB of on-board memory
– MicroSD slot
– 7″ screen
– Android 4.1
– £119.99
The Scroll Evoke joins a wide range of 7″ tablets with similar specs, prices and internal parts. The sub £150 tablet arena is certainly a hectic one.
If you're interested in this new tablet you can get one over at the Storage Options website.
Scroll Evoke brings Android Jellybean to UK's widest tablet portfolio

UK-based technology brand, Storage Options, has announced its most powerful tablet to date – the Scroll Evoke. In an exciting first for the award-winning Scroll portfolio, the Evoke will adopt Android's 4.1 Jellybean – the latest operating system from Google – offering dramatically improved response times, performance and accessibility.

Retailing at just £119.99, the sleek and stylish Scroll Evoke features a new Dual Core Cortex A9 1.6GHz processor, enhancing performance and offering a crystal clear viewing experience. The 7" tablet also offers 8GB of on-board memory (expandable by up to 32GB with a Micro SD card) ensuring plenty of room for e-books, music and movies, plus Bluetooth connectivity provides access to a range of wireless devices such as a keyboard or mouse.

Providing a truly portable experience, the Scroll Evoke comes with a brand new Mali-T604 quad core graphics processor, offering the user an impressive, polished display and rich viewing experience.  

Paul Evison, Head of Brand at Storage Options, comments: "The Scroll Evoke is an exciting and important addition to our range and as the first device to run on Android 4.1, we are re-enforcing our commitment to offering the latest technology to our customers. Our Scroll range now offers a tablet to suit everyone, whether they are looking for an entry level device or something more sophisticated. With great features such as a Quad Core graphics processor and Bluetooth connectivity, we feel that the Scroll Evoke is the perfect addition. With an RRP of only £119.99, the Evoke is also one of the most cost effective tablets on the market which runs the latest Android operating system."

The Android 4.1 Jellybean operating system is the fastest and smoothest version to date and introduces a new Google search experience. Everything in Jelly Bean is faster, more fluid and smoother. These new 4.1 features have improved performance throughout the Scroll device including faster orientation changes, quicker responses when switching between apps and more consistent rendering across the system through triple buffering.

Available to order from http://www.storageoptions.com, the Evoke is the newest tablet to join Storage Option's award winning Scroll line up with tablets ranging from 4.3" to 9.7".