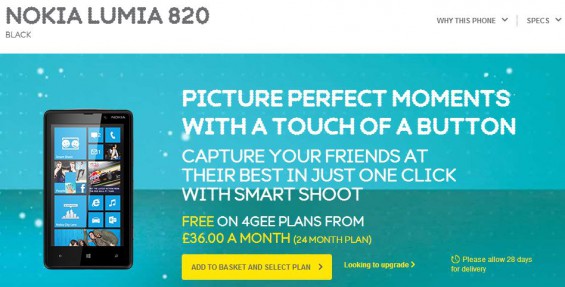 An update on the EE Twitter account has just announced that the Lumia 820, powered by Windows Phone 8, is now available to buy on the 4G network. Plus, if you buy in store, you get a free wireless charger to go with it too.
The @nokia_uk 820 – latest phone on #4GEE! HD voice and @WindowsPhoneUK 8 http://t.co/0xaXm2Cc Buy in store for a free wireless charger — EE (@EE)
The cost is a little steep though. A 24 month plan will set you back £36 to get the phone free, and that only gives you 500MB of data per month. Oh, and there's "up to 28 days for delivery" too. Strange.
The 820 has 8GB of internal memory, a microSD expansion, 8 megapixel rear camera with dual LED flash, 1080p HD video recording, front VGA camera and a 480×800 AMOLED screen. It also features GPS, WiFi, sensors, compass and is powered by Windows Phone 8.
Link – EE Shop