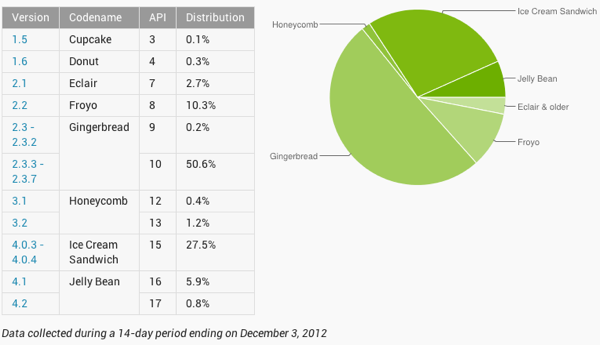 It's that time of the month again. Google has updated its Platform Version page with the latest figures as of yesterday. As you can see, Gingerbread still accounts for just over half (50.8%) of Android devices, this is shrinking however. Meanwhile Jelly Bean is growing and is up to 6.7% of devices, this number is no doubt thanks to good sales of the Galaxy Note 2 as well as the recent update for the Galaxy S3.
Jelly Bean 4.2 is currently on 0.8% of devices and given that it's only officially available on the Galaxy Nexus, Nexus 7 and Nexus 4 that gives us at least some insight into how well sales of the Nexus 4 have gone thus far.
Also interesting is that 64.2% of Android users are currently running software that is at least 2 years old. 
Android as a whole seems to be moving in the right direction in terms of updates but these figures show it's doing so very slowly.