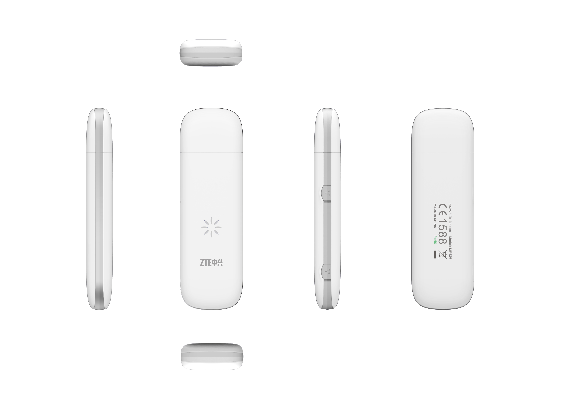 ZTE today announced the upcoming release of the worlds smallest 4G datacard.
The ZTE MF823 is only 13mm thick and uses Qualcomms second generation LTE chip platform.  It is around one third the thickness of the current crop of data cards.
The card has already launched in Kazakhstan and will launch soon in Europe and Asia.
Pricing details are not yet known but as soon as we have them we will bring them to you.
The full press release is below:
29 November 2012, Shenzhen, China – ZTE Corporation ("ZTE") (H share stock code: 0763.HK / A share stock code: 000063.SZ), a publicly-listed global provider of telecommunications equipment, network solutions and mobile devices, has announced the launch of the ZTE MF823, the world's smallest  4G LTE datacard.

With driver-free capabilities, the MF823 offers consumers fast and easy internet connectivity.  It uses Qualcomm's second generation LTE chip platform and is only 13mm thick, nearly a third of the size of the first generation LTE datacard, making it the world's smallest LTE datacard.

The MF823 has a web UI operation, supports IPV6 and is compatible with Win8/XP/Mac and all major operating systems. It supports LTE-FDD DL/UL 100/50Mbps, UMTS-HSPA+: DL/UL 42/5.76Mbps and GPRS/GSM downward compatibility allowing consumers to enjoy high speed internet access wherever they are without the need for a fixed line internet connect or public WiFi hotspot.

The average power consumption of the MF823 has also been greatly reduced compared to the consumption of the first generation LTE datacard; it uses a third less power. It has improved radiating properties and with the lowest working temperature in the industry it will not feel hot even after long time use.

The  MF823 has been optimised in terms of high bandwidth, low delay and high communication rate (to reduce the dropping rate of data and voice communication), to ensure that users can enjoy a new generation of mobile high bandwidth internet access.

The ZTE MF823 has already been launched in Kazakhstan and will launch soon in Europe and Asia-Pacific countries.